Bengaluru to witness power cuts till Friday; See affected areas
Published on Jan 18, 2023 10:23 AM IST
The Bangalore Electricity Supply Company (BESCOM) notified that Jayanagar, Hebbal, BDA complex, Padmanabhanagar and some other parts of Bengaluru will face power outages on Wednesday, Thursday and Friday this week. Read on for a full list of affected areas.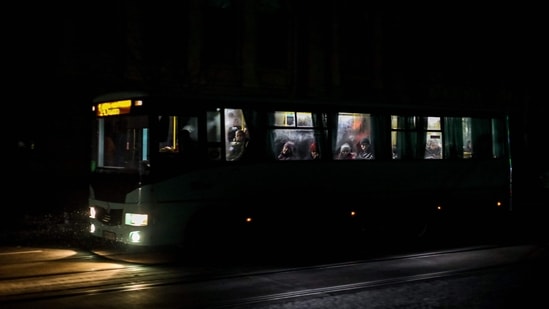 Some areas in Bengaluru might face power cuts today, tomorrow and day after as the Karnataka Power Transmission Corporation Limited (KTPCL) - which is the sole distributor of electricity in the southern state - will be carrying out several maintenance works.
These works include monthly and quarterly maintenance, hotline observations before summer, stringing of circuits, replacement of existing lines, testing of transformers, station maintenance, dismantling old towers, among others.
Here is a day-by-day list of affected areas:
January 18, Wednesday
Huvinamadu, Ballur, Kolkunte, Giriyapura, Kaidal, Hadadi, Kalbande, Kukkawada Rural, Lokikere, Kanagondanahalli, Matti Rural, Nagarasan Halli, Kalkere, Kolenahalli, Channenahalli, Kyasinakere, Lingapura, Rampura, Benakanahalli, Hirebasur, Hotyapura, Gowrasamudra, Mallasamudra, Bandetimmalapura, T. Devarahalli, Rameswhara kavalu, Kutlarahatti, Kavanahalli, Mallurahatti, Halejogihatti, Kavalu Basaveshwaranagra, Gunthakolammanahalli, Torekolammanahalli, Koradihatti, Chintamani, Shettimadamanagala, Talagawra, Cheemangala, Y. Hunasenahalli, Bommepalli cross, Yenigadale, Shidlagatta, Melur, Jangamakote, Nandhiganahalli, G. Kodihalli, Srinivasapura, Iragampalli, Burudugunte, M. Gollahallli, Tadigol Cross, Lakshmipura, Addgal, Somayajalahalli, Gownipalli, Rayalpad, Ganjigunte, Pallicherlu, Dibburahalli and Sadali substations, Gowribidanur, Thondebhavi, Manchenahalli, Gundlukottur, Gudibande, D Palya, Vidhurashwatha, Ramapura, Somanathapura, Somanahalli, Bagepalli, Vatadahosahalli, Kodigenahalli, Vijayapura and local areas.
January 19, Thursday
Chittanahalli, Avaragolla, Devarahatti, Shivali, Vijayanagara, Shaneshwara, Yaragunta, Amruthanagara, Kodihalli, Davanagere and Yaragunta, Mauneshwar, Basaveshwara, Jayanagara, Ejukola, Nijalingappa, Maganagara Palike, Durgambhika, Banagirinagar, Jayanagar 7th block, BSK 2nd stage, BDA Complex, Channamanakere Achhakatu, Saroja Complex, Rajivnagar, Padmanabhanagar, Yarabnagar, TATA Silkfarm, Shastrinagar, 9th Main Bata showroom, Kanaswadi and local areas, IBM D4 Block, Manyatha Residency, Godrej apartment, Hebbal Kempapura, Vinayaka Layout, Chirranjeevi Layout, Venkategowda Layout, Nokia Block, G1 Block, MFAR, Madhuvana M2 Block, Rachenahalli, Srirampura, Chamundeshwari Layout, Royal Enclave, Mestri Palya, Thanisandra, SNN Clermont apartment, B. Narayanapura Cross, BDS Layout, Mantri Lithos, Coffee Board layout, Fathima layout, Amarjhothi layout, Mariyanna Palya. Magadi, Soluru, Gudemaranahalli, Hosapalya, Magadi subdivision areas feeding from 66/11kV Magadi substation, Gudemaranahalli Substation, Doddabelavangala, D. Cross Doddaballapura and local areas, RT nagar, Ganga nagar, Cholanagar, Outer Ring Road, Kariyappa Layout, 1st block Anand nagar, Hebbal, Jaymahal 1st block, Marappa Garden, J C Nagar, Millers Road etc.
January 20, Friday
Tolahunase, Kurki, Kabbur, Gopanalu, Bada and Kandagallu, Attigere, Bada, Hanumanahalli, R G Halli, Ranganatha, Anagodu, Attigere, Mayakonda, Sasaluhalla, Chikkajajuru, Anapura, Bulasagara, Siddarameshwara, Hanumanahalli, Thimmalapura, Neralagundi, Singatagere, Anjaneya water works, Kundur, Kulamb, Bannikodu, Nelahonne, Mukthenahalli, Yakkanahalli, Savalanga, Kodtalu, Chinnikatte, Ganjinahalli, Madapura, Mussenalu, Jayanagara, Machegondanahalli, Kyathinkoppa, Doddaghtta, Harmallenahalli, Hulikalu, Bydadakodigehalli, Vittaladevarahalli, Koralaru, Nadavathi, AWHO Apartments, Addagal, Rayalapadu and Gownipalli, Devanahalli Taluk and Brigade orchards apartments.