Farmers protest airport project in Shivamogga over compensation
Feb 06, 2023 12:06 AM IST
The airport has been constructed in Sogane village, around 15 kilometres from Shivamogga, at an estimated cost of ₹400 crores, to be inaugurated by Prime Minister Narendra Modi on February 27
A few farmers opposed the inauguration of the Sogane airport in Shivamogga district in Karnataka over the alleged failure of the authorities to provide compensation for their lands.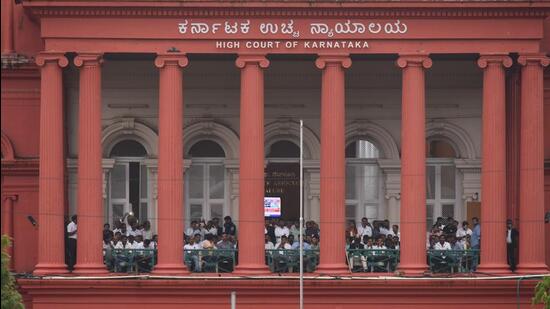 The airport has been constructed in Sogane village, around 15 kilometres from Shivamogga, at an estimated cost of ₹400 crores, to be inaugurated by Prime Minister Narendra Modi on February 27.
However, the farmers who have lost their land for the construction have decided to stage a protest, alleging that the officials did not provide any compensation.
The airport has been constructed over 530 acres of land in Sogane village, bearing survey number 120. "Since this part is a complete 'bagar hukum' land (government land alloted to the landless), the government has decided to give ₹2 lakh per acre to each farmer not exceeding 4 acres of land and promised to give a job to each household, including an alternative site for those who lost their land," said former zilla panchayat vice president Veda Vijaya Kumar.
"Farmers who did not agree to give bagar hukum land for the airport construction were promised ₹2 lakh per acre, a 60x40 plot and employment. But the promise has not yet been fulfilled," Veda added.
For the last 15 years, farmers said they have been petitioning for the site but to no avail.
Tired of this, the farmers approached the Karnataka high court, and filed a petition in 2012.
The then deputy commissioner of BH Anil Kumar agreed to fulfil all promises and appealed to the farmers to withdraw the cases from the court.
And despite withdrawing the cases, the district administration and the elected representatives did not provide any compensation, employment or sites, the farmers alleged.
In 2020, the district administration acquired 40.18 acres of land from 13 farmers for the construction of the runway of the airport.
The government fixed ₹40 lakhs per acre as compensation. But the revenue authorities cancelled the khata (ownership) of the lands of farmers, saying it is 'bagar hukum' land.
"Since we have given the land, it is enough to appeal to everyone, including the DC, former chief minister B S Yeddyurappa and MP Raghavendra, to give them the land. Still, we have to fight," farmer Krishnappa, who lost one-acre land for the runway, said.
"For two decades, we have been worried as the land has been acquired for an ambitious project, but farmers who gave away their lands were completely neglected. Hence, all the farmers have decided to take up a massive protest on February 27, opposing the project as we have no other option," he added.
"We have to examine the files of farmers to fulfil the promises given before the acquisition of farmers' land," sub-divisional magistrate M Chennappa said.
"The bagar hukum lands are originally government lands and were granted to farmers. Hence, we are examining the procedures of compensation and other promises made during the acquisition," he added.