'Should be an Olympic sport': Anand Mahindra on Bengaluru waiter balancing 16 plates | Watch
Feb 02, 2023 02:38 PM IST
Mahindra Group's Chairman, Anand Mahindra, suggested that a waiter's productivity should be an Olympic sport after watching a waiter at Bengaluru's iconic eatery, Vidyarthi Bhavan, balancing 16 plates of dosa.
Industrialist and Mahindra Group's Chairman Anand Mahindra on Tuesday appreciated waiters by suggesting that 'waiter's productivity' should be an Olympic sport. He said this after watching a Bengaluru hotel's waiter balancing 16 plates of dosa on one arm, a video of which went viral on the internet.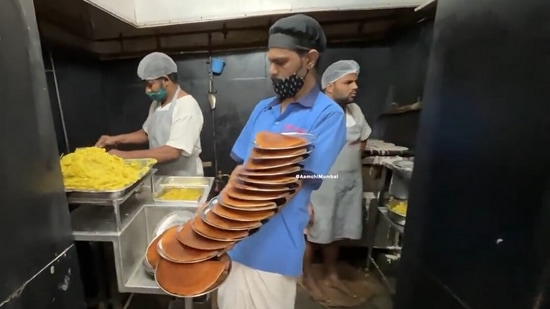 "We need to get 'Waiter Productivity' recognised as an Olympic sport. This gentleman would be a contender for Gold in that event…" Mahindra tweeted, while sharing the video, which has more than 1.3 million views at the time this article was being written.
The video was shot in one of Bengaluru's iconic eateries - Vidyarthi Bhavan - famous for its south Indian dishes like dosa and idli. It showed a waiter loading plate after plate, full of hot dosas, onto his arm and carrying them around to various tables with ease. He had a total of 16 plates on one arm while he unloaded them onto tables with his free hand.
Anand Mahindra's post garnered a flood of responses from Bengaluru residents, who excitedly told him it was their favourite place to get dosas.
"This is my most favourite dosa at #Vidyarthibhavan Bengaluru. People wait here in queue for an hour or two to have his dosa. Unbelievable masala dosa and chutney and it is part of Bengaluru heritage," a Twitter user replied.
"Not to forgot the Centre of Gravity of every plate is different as the masala's contents may vary from place to place! That gentle man is a born engineer than a waiter sir!" another said.
The Vidyarthi Bhavan has been a famous place for localites in Bengaluru, and was recently in the news when Starbucks co-founder Zev Siegl visited the legendary restaurant and tried a cup of traditional filter coffee.
The eatery also made headlines when it shared a picture of Britain's Prime Minister Rishi Sunak enjoying a meal at the restaurant when he had visited the city.