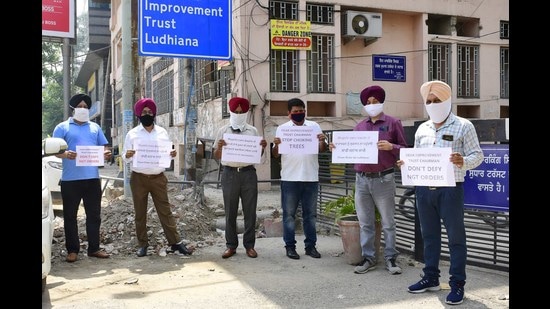 High drama as NGO members get into spat with LIT chief
While members of NGOs alleged non-adherence to NGT orders to stop installation of interlocking tiles around a one-metre radius of trees, LIT chairman says they were misbehaving and putting pressure on officials
UPDATED ON JUN 16, 2021 01:26 AM IST
High drama was witnessed at the Ludhiana Improvement Trust (LIT) office in Feroze Gandhi Market on Tuesday after members of different NGOs had a heated argument with LIT chairman Raman Balasubramaniam over implementation of the National Green Tribunal's (NGT) orders, directing authorities to stop pouring concrete and installing interlocking tiles around a one-metre radius of trees.
While members NGOs like Council of Engineers, Naroa Punjab Manch and Wake up Ludhiana accused the LIT chairman of using abusive language against the NGT and forcing them to move out of the office, Balasubramaniam accused them of misbehaving and putting unnecessary pressure on LIT officials.
The NGO members, including Kapil Arora, Kuldeep Khaira, Simratpal Kalsi and Apinder Sodhi, also submitted a police complaint after they were forced to move out of the LIT office.
Arora said that they had moved NGT against the illegal practice of pouring concrete and installing of interlocking tiles around trees, which damages the roots. The NGT had in March ordered the authorities to leave a one metre radius around the trees.
"We had apprised the authorities of the orders. As the illegal practice is still prevalent in areas like BRS Nagar, Model Town Extension and Shaheed Bhagat Singh Nagar, we staged a peaceful protest outside the LIT office from 10.30am to 12.30pm on Tuesday. The authorities have even failed to remove concrete poured around trees in LIT's office. The chairman, however, refused to obey the orders of NGT and used abusive language. He also forced us to leave the office premises, but we continued our peaceful protest.".
The protesting members stated that trees are not able to absorb water and other nutrients after concrete is poured around them. Further, the roots also get damaged, which makes them weak and they fall during thunderstorms and strong winds. Recently, around 80 trees got uprooted in different parts of the city due to strong winds.
On June 11, NGOs had also protested against the MC over the issue.The members said that a complaint against the LIT chairman has been submitted with the NGT and a contempt petition will now be filed against the MC and LIT authorities, if they fail to act within a week.
However, Balasubramaniam refuted the allegations and accused the NGO members of misbehaving and putting unnecessary pressure on the officials. "I have already issued the orders and we are leaving a one-metre space around the trees wherever possible. The NGO members were putting unnecessary pressure and demanding that the changes be made overnight, which is not possible, as it is a labour and capital intensive job. We are already working to encourage greenery in the city and a number of leisure valleys are being established, while these NGOs have never stepped in to promote greenery or save the environment."
Station house officer of division number 5 police station, Kuldeep Singh, said that no written complaint has been submitted by anyone and a police team was deployed at the spot to avoid any law-and-order situation
Close