Organisational issues, polls in focus at BJP's state executive meeting in Chandigarh
Published on Jan 25, 2023 12:55 AM IST
Former Gujarat chief minister and the BJP's Chandigarh in-charge Vijay Rupani said the BJP-led central government has undertaken several development programmes over the last nine years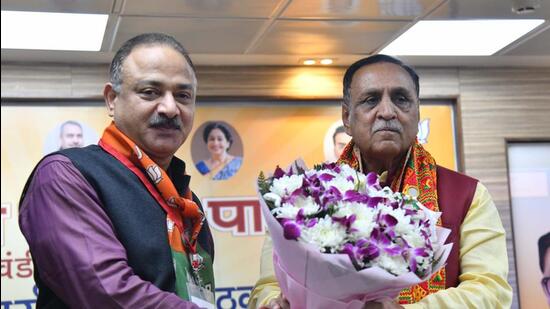 Bharatiya Janata Party's (BJP) state working committee meeting was held at the Sector 33 State Office, Kamalam, under the chairpersonship of state president Arun Sood to discuss organisational, political and other issues and prepare the roadmap for future actions.
Former Gujarat chief minister and the party's Chandigarh in-charge Vijay Rupani, who was present in the meeting, said the BJP-led central government has undertaken several development programmes over the last nine years before calling upon the party members to work towards ensuring that the party comes back to power at the Centre under Prime Minister Narendra Modi's leadership in 2024.
State organisation general secretary Srinivasulu discussed organisational issues, emphasising on booth empowerment, power centre empowerment and sought the appointments of Panna Pramukh at booth level.
State party president Arun Sood detailed party activities from the last executive meeting held in June 2022, while mayor Anup Gupta briefed the city about the work carried out by the BJP-governed municipal corporation.
A total of 18 committees were formed during the meeting aimed at bridging the gap between authorities and city residents.