SAD leaders' Amritsar huddle seeks Jhunda panel report implementation
Published on Aug 09, 2022 02:03 AM IST
The meeting of SAD leaders, which called for implement of the recommendations of Jhunda panel report, was held atleast ten days after Sukhbir Badal dissolved all organisations and wings of the party to be recast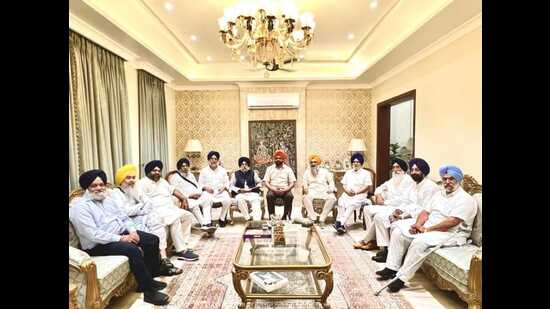 Gurpreet Singh Nibber & Surjit Singh
A section of senior leaders of Shiromani Akali Dal (SAD) on Monday held an informal meeting in Amritsar and decided to approach the party president Sukhbir Singh Badal, asking him to implement recommendations of the 13- member Jhunda committee report.
The meeting was held atleast ten days after Sukhbir Badal dissolved all organisations and wings of the party to be recast.
The meeting, first of its kind after SAD's worst-ever performance in the state polls held in February when party could win only three seats, hinted of tough days ahead for party president as one of the leaders present in Monday's meeting said, "We might ask him (Sukhbir) to step down".
According to Manpreet Singh Ayali, Dakal MLA and party's legislature group leader in the state assembly, "In coming times, a big delegation comprising senior Akali leaders, Sikh intellectuals and well-wishers of panth will meet Sukhbir Singh Badal in this regard".
In Chandigarh, an apparent reaction to the meeting, the president constituted a five-member disciplinary committee led by former minister Sikandar Singh Maluka, issuing an appeal the all the party leaders and workers to hold democratic views on the party platform and not to let enemies of panth, party and Punjab spread unnecessary misconceptions about the unit of the party.
Those present in the meeting were - former MPs Prem Singh Chandumajra and Jagmeet Singh Brar, Ayali, former assembly speaker Charanjit Singh Atwal, former MLAs Gurpartap Singh Wadala and Amarpal Singh Boni, SGPC General Secretary Karnail Singh Panjoli and its member Bhai Manjit Singh. Two other leaders- former Chairman of SSSS Board Punjab Santa Singh Umaidpuri and Jagjit Singh Kohli- were also present in the meeting held at the house of Ravikaran Singh Kahlon, son of former speaker late Nirmal Singh Kahlon.
The leaders in the meeting objected however, termed the setting up of disciplinary committee, as an attempt to muzzle their voice.
Other members in the committee included Sukhbir's confidantes Sharanjit Singh Dhillon, Virsa Singh Valtoha, Mantar Singh Brar and Sukhwinder Sukhi.
After the party's worst ever performance in the state assembly polls in February this year, party president constituted a committee led by Iqbal Singh Jhunda to give feedback on basis of true picture for party's course correction. On the basis of meetings with the party's workers and cadres Jhunda committee in its report suggested for change of leadership at the top most level, one family one MLA formula, two years term for the president, and seeking forgiveness for the mistakes committed during party's rule in the state from 2007 to 2017. At time of dissolving the party, it however, remained silent on the recommendations.
Personalise your news feed. Follow trending topics