Will use full power to restore J&K statehood: Rahul
Published on Jan 24, 2023 01:16 AM IST
Addressing the gathering during his Bharat Jodo Yatra, which arrived in Jammu on Monday, Senior Congress leader Rahul Gandhi said he met a cross section of people from the union territory during the foot march who told him that J&K these days is being run by "outsiders"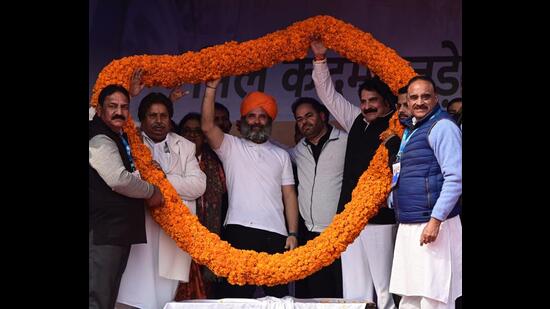 Senior Congress leader Rahul Gandhi on Monday said the demand for statehood of Jammu and Kashmir is the biggest issue and his party will use its "entire might" to restore it.
Addressing the gathering during his Bharat Jodo Yatra, which arrived in Jammu on Monday, the Congress leader said he met a cross section of people from the union territory during the foot march who told him that J&K these days is being run by "outsiders".
"Here in J&K, statehood is your biggest issue. Nothing is bigger than it. Your right has been snatched," said the former Congress president. "The Congress will fully support you and your statehood (demand). To reinstate statehood, the Congress will use our entire might."
On Monday, security was heightened for the Congress leader's rally at Satwari Chowk in the wake of twin bomb blasts in Jammu two days ago.
On August 5, 2019, the Bharatiya Janata Party (BJP)-led central government had revoked the special status to J&K by revoking Article 370 and bifurcated the erstwhile state into two union territories of Jammu and Kashmir, and Ladakh.
Rahul said J&K residents told him that their voices are not being heard by the administration.
"Locals here, including young and old, men and women, who met me in this yatra, told me that earlier the people of J&K used to run the region, but today outsiders are running J&K and that the administration doesn't listen to their voice," he said. "They also told me that the entire trade is being run by outsiders and people of J&K watch them sitting haplessly."
He said that J&K has the highest level of unemployment in the country and took a swipe at the BJP government for bringing in Agnipath scheme for the short-term recruitment in armed forces.
"Amidst unemployment, the youth used to look up to the army, but this government has also closed the door on them. They brought Agnipath scheme without understanding the ethos of the army," he added.
The Lok Sabha MP from Wayanad also accused the J&K administration of "doing injustice" with Kashmiri Pandits.
"They met me today and informed that when a delegation of Pandits had gone to meet the LG (lieutenant governor) Manoj Sinha, he asked them not to beg. This is appalling. They are not begging… they are demanding their due rights," Rahul said. "If the LG has to do something, he should first apologise to them."
Later in the day, Rahul also visited historic Raghunath Temple in the old city and paid obeisance.
Digvijaya Singh questions surgical strikes, BJP hits back
Congress leader Digvijaya Singh earlier in the day stepped up his attack on Prime Minister Narendra Modi and raised questions over Pulwama terror attack that left 40 CRPF men dead on February 14, 2020.
"The then CRPF director had demanded that his men be airlifted because the area was sensitive and a hub of terror, but our PM Modi refused. Why did he do so? Why a vehicle laden with explosives came from the wrong direction and who allowed it? The findings were never made public," he alleged.
He also questioned the surgical strikes and accused the government of peddling lies, stoking a major political row with the Congress distancing itself from his comments, saying they are "his own" and do not reflect the party's position.
The BJP launched a sharp attack on the Congress and said the party is "blinded by its hatred towards PM Modi".
Such comments show that the Rahul Gandhi-led foot march across the country is Bharat Jodo Yatra only in name while he and his party colleagues are working to "break" the country, said BJP spokesperson Gaurav Bhatia.
He said, "India will not tolerate if they speak against armed forces. Rahul Gandhi and the Congress hate PM Modi but it seems they have been blinded by the hate to an extent that their dedication to the country has withered away."
J&K BJP president Ravinder Raina said, "Prime Minister and home minister have assured on the floor of the Parliament that statehood will be restored when situation turns normal and there is no separatism and terrorism left. Why is he (Rahul) in a hurry?"
Digvijaya had also claimed that the BJP was awarding tenders of various projects in Jammu and Kashmir to its favourites via 'one person'.
"The government doesn't want to resolve the problem of J&K. That's why movies like The Kashmir Files are made and hatred among Hindus and Muslims is spread," he added.
Rahul's itinerary
After overnight stay at Sidhra on the outskirts of Jammu, he will resume his foot march on Tuesday from Nagrota town to Jhajjar Kotli on Jammu-Srinagar national highway.
On January 26, Rahul is expected to be in Banihal -- the gateway to Kashmir -- where he will hoist the national flag.
On January 30, he will reach Srinagar where he will unfurl the tricolour and address a mega rally and culminate his Bharat Jodo Yatra.