Nepal villagers again pelt stones on Indian side of Kali river in Uttarakhand
Jan 04, 2023 07:31 PM IST
The stone pelting occurred when labourers on the Indian side were building an embankment on the Kali river, which acts as the border between Nepal and India
Villagers from Nepal have again pelted stones on the Indian side at the Indo-Nepal border in the Dharchula area of Uttarakhand's Pithoragarh district, officials said on Wednesday. The incident occurred when labourers on the Indian side were building an embankment on the Indian side of Kali river, which acts as the border between Nepal and India, on Tuesday evening.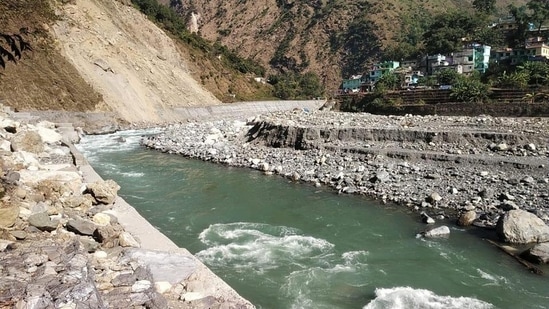 "We received information about stone pelting on the Indian side again. We have taken up this issue again with Nepalese authorities and told them to take action against miscreants," said Divesh Shashni, sub-divisional magistrate (SDM) Dharchula.
"As soon as the stone pelting started, Indian workers fled from the spot to save themselves," said Rakesh Tiwari, a local resident.
Dhan Singh Dhami, block pramukh, Dharchula, said there have been around a dozen incidents of stone pelting on Indian workers in the last 50 days. "The Nepalese citizens should come forward to stop such elements who are spoiling the traditional harmony between the two sides," he said
The Indian side is constructing a 985-metre embankment on Kali river on the Indian side, to protect Dharchula town from monsoon floods.
"Nepalese have already constructed a 5-km-long protection wall on their side. While that wall was under construction, we did not raise any objections. Why are they now creating problems for us here", said Krishna Garbiyal, a resident of Dharchula .
On December 4, villagers from the Nepal side had pelted stones on the Indian side in the same area. A day after the incident, the local residents and traders staged a protest against the incident and blocked the border bridge over river Kali. The Uttarakhand police later filed a case against unidentified Nepalese citizens who allegedly hurled stones at the workers on the Indian side engaged in the construction of an embankment on river Kali.
Villagers on the Nepal side fear that building of embankment on the Indian side will push the flow of Kali River towards their side and it could lead to flooding on their side.