Air quality in Delhi showing gradual improvement, says Economic Survey
Feb 01, 2023 12:03 AM IST
The survey attributed the improvement in air quality to interventions such as creating a dedicated body for the National Capital Region like the Commission for Air Quality Management
Air quality in Delhi has improved since 2016 with the total number of days in the good, satisfactory and moderate categories of the Central Pollution Control Board's (CPCB) index increasing between 2016 and 2021, according the economic survey 2022-23 that was tabled in Parliament on Tuesday.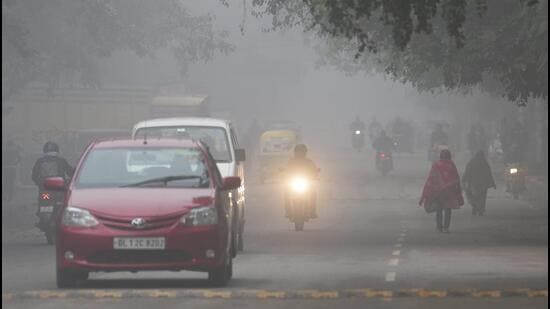 "The number of good, satisfactory' and moderate days increased to 197 in 2021 compared to 108 in 2016, and the number of poor, very poor and severe days decreased to 168 in 2021 against 246 in 2016, the survey said.
The CPCB classifies air quality index (AQI) from 0-50 as good, between 51 and 100 as satisfactory, 101 and 200 as moderate, 201 and 300 as poor, 301 and 400 as very poor, and over 400 as severe.
The survey attributed the improvement in air quality to interventions such as creating a dedicated body for the National Capital Region (NCR) like the Commission for Air Quality Management (CAQM), banning diesel and petrol vehicles older than 15 and 10 years respectively in NCR, providing machines to agrarian states to reduce farm fires, shifting Industries to clean fuel and creation of expressways around Delhi.
The Delhi government did not comment on the matter. The state government came up with a 15-point winter pollution plan in September 2022 which included controlling farm fires and garbage burning, banning firecrackers, setting up a green war room and curbing dust pollution, among others.
Overall, the survey said, the Continuous Ambient Air Quality Monitoring Stations (CAAQMS) data for Delhi shows that annual concentration of PM 2.5 reduced by 22% between 2016 and 2021, while the PM 10 concentration reduced by 27% during the same period. The economic survey also compared monthly air quality index (AQI) between 2017 and 2021, to show that nine months in 2021 had a lower AQI than corresponding months in 2017.
"In 2021, nine months registered an improvement over 2017, with the maximum improvements seen in October (54%), May (50%) and September (48%). In 2021, average monthly air quality in Delhi declined in January (17%), February (15%) and March (1%) as compared to corresponding months in 2017, indicating an area of concern," the survey said.
Experts said while the trend is encouraging, Delhi still needs to plan interventions in order to reach close to the national standards for both PM 2.5 and PM 10. "This improvement gives a certain sense of optimism and shows that if you take action on multiple fronts, you will see a reduction in air pollution. We have been able to bend the pollution curve, and it is now coming down. However, much more aggressive action is required to ensure this curve keeps coming down," said Anumita Roychowdhury, executive director, research and advocacy at the Centre for Science and Environment (CSE).
The Economic Survey also said so far, since the National Clean Air Programme (NCAP) came into force in 2019, 96 out of the 132 cities under it had shown a decreasing trend in PM 10 concentration, while 36 cities had shown an increasing trend till 2020-21.
Professor SN Tripathi from IIT Kanpur, who is also part of the steering committee of NCAP, said considerable awareness has been created in Delhi-NCR and the non-attainment cities with regard to air pollution. This has been achieved with disbursal of funds being linked with performance targets, which will incentivise cities to reduce pollution further. "Grants are now performance based and will be distributed based on the targets met. For continued improvement in air quality across the country, the monitoring network should also be improved and that the funds spent on capacity building."