BBMP boosts Covid testing from 1,500 to 6k a day
Jan 04, 2023 12:13 AM IST
BBMP special commissioner, health, Dr K V Thrilok Chandra said people with a history of comorbidity, symptomatic cases and the cases with ILI (influenza-like illness) / SARI (severe acute respiratory infection) symptoms, are being tested at the primary health centres in the BBMP limits
In the wake of spike in Covid cases in some countries, civic body Bruhat Bengaluru Mahanagara Palike (BBMP) which was earlier conducting 1,500 Covid-19 tests has increased the number to 6,000 in Bengaluru, people in the know of the matter said on Tuesday.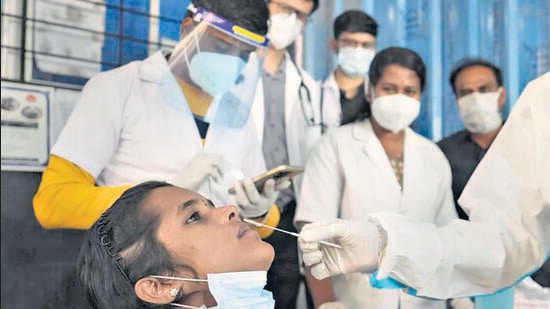 BBMP chief commissioner Tushar Girinath said the civic body was earlier conducting 1,500 tests a day. Based on the recommendation of Karnataka health department, the tests have been increased to 6,000 per day, Girinath said.
"Earlier, we used to conduct 1,000-1,500 tests a day. The government has asked us to increase the target to 5,000. We have conducted 6,000 tests on an average in the last few says," Girinath told reporters on Monday. Recently, the Technical Advisory Committee (TAC) recommended raising the BBMP test targets to 5,000 a day.
Girinath also appealed to the people not to worry, adding that the testing target will also increase if there is a spike in Covid-19 cases. "At present, there is no need to worry. If the number of positive cases rise, the number of tests will also increase," Girinath said, appealing to the public to get tested in case they see any symptoms of the disease.
The commissioner said that masks were only compulsory indoors and not in public places. However, awareness has been created on its benefits, Girinath said.
BBMP special commissioner, health, Dr K V Thrilok Chandra said people with a history of comorbidity, symptomatic cases and the cases with ILI (influenza-like illness) / SARI (severe acute respiratory infection) symptoms, are being tested at the primary health centres in the BBMP limits.
TAC chairman Dr MK Sudarshan had recently said that no new measures are required if the guidelines are followed. The likelihood of a spike in cases will be significantly reduced if people follow Covid appropriate behaviour in public spaces, he said.
In the last 24 hours, Karnataka reported 17 new Covid-19 cases and zero deaths, while Bengaluru Urban contributed to 16 cases. The daily and weekly positivity rate of the state has remained below 1%, according to the state health department data.
Amid the surge in infections in several countries, the Karnataka government earlier this week mandated a seven-day home quarantine for passengers arriving in the state from six high risk countries – China, Japan, South Korea, Singapore, Thailand and Hong Kong. Last week, the state made it mandatory for citizens to wear masks, especially during New Year celebrations.
If the passengers arriving in Karnataka from the high-risk countries are found symptomatic, they will be isolated at designated medical facilities for clinical management, the guidelines stated. If they test positive, their samples will be sent for genome sequencing, the guidelines said.
The state government also directed passengers to report to the local surveillance health team if they develop symptoms like fever, cough, cold, body ache, headache, loss of taste and smell, diarrhoea and breathing difficulty during home quarantine.
If a passenger tests positive for Covid-19, their primary and secondary contacts will also be quarantined, within 24 hours of identification, at their homes or designated places, the guidelines stated.