Delhi's blue cover drops, urban growth to blame, says study
Jan 23, 2023 07:07 AM IST
The study found that Delhi's blue cover shrunk largely due to an increase in built-up area, which increased from 1,216 sq km in 2000 to 1,961 sq km in 2015.
The blue cover in the Capital dropped considerably over a 15-year period between 2000 and 2015, a satellite analysis has found, noting that the area under water bodies shrunk 14% in the 0-20 km radius from the city centre, and by 23% in the 20-50 km radius.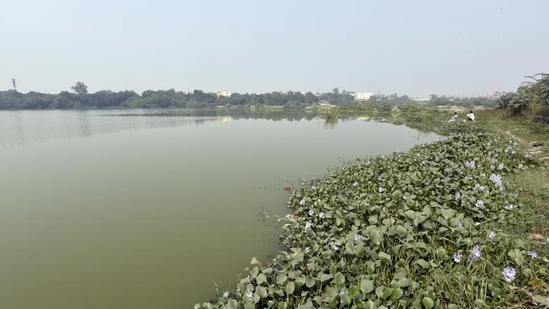 US-based research non-profit organisation World Resources Institute (WRI), in a study titled "Urban Blue-Green Conundrum: a 10-city study on the impacts of urbanization on natural infrastructure in India", has found that Delhi's blue cover has shrunk largely due to an increase in built-up area, which increased from 1,216 sq km in 2000 to 1,961 sq km in 2015.
The blue cover, however, dropped from 36 sq km in 2000 to 22 sq km in 2015 in the 0-20 km radius, while in the 20-50 km radius, it dipped from 67 sq km in 2000 to 44 sq km in 2015, the study shows. While the 0-20 km radius covers 1,256 sq km within Delhi, a total of 6,596 sq kms is covered in the 20-50 km radius.
The study, which selected India's 10 most populous cities -- Ahmedabad, Bengaluru, Chennai, Delhi, Hyderabad, Jaipur, Kolkata, Mumbai, Pune and Surat -- which account for around a third of India's urban population, utilised open-source, high-resolution satellite imagery to study the change in the built-up area of cities.
Also read: Three more substations in works to power 6 new data centres in Noida region
"Between 2000 and 2015, the built-up area in these 10 cities increased on average by 47 percent and 134 percent within 0–20 km of the city center (core) and 20–50 km (periphery), respectively. Simultaneously, blue cover decreased by 15 percent," the analysis, which has been carried out by WRI researchers Sahana Goswami, Samrat Basak, Aakash Malik and Raj Bhagat Palanichamy, said.
The study also found that this increase in built-up area has also reduced Delhi's groundwater recharge potential in this period, with 169 million litres per day (mld) groundwater recharge being lost to development. However, the population spiked by 8,817,771 in the same period, increasing Delhi's water demand by 882mld.
Sahana Goswami, senior program manager with water resilience practice at WRI India, and one of the lead authors of the study, said of this 169mld, around 125mld was lost in areas where there was a high recharge potential, indicating even minimal steps could have ensured this recharge continued.
"Urban areas like Delhi and its surrounding regions continue to be major economic hubs. This study shows us that the loss of natural infrastructure such as surface water bodies and zones of potential groundwater is closely linked to the current forms of urban development and greatly increases water related vulnerabilities of our cities. Preserving and restoring our natural infrastructure, and mainstreaming nature-based solutions and blue-green infrastructure in cities can be a critical step to help increase the resilience of urban regions and provide a buffer against climate change driven extreme weather shocks," she said.
To fix this long-term damage, the study suggests developing maps comparing current and historical satellite imagery to assess the available natural infrastructure and changes to it. Based on the findings, corrective action such as protection and revival of these resources can be carried out. It further suggests Integrate hydrogeological aspects with urban planning.
Also read: Sweety hit-and-run in Greater Noida: In two weeks, police pick errant car from among 12,000 vehicles
"Hydrogeology must become an integral part of urban planning exercises. A few examples have now emerged in urban India (Delhi and Mumbai) where development authorities have explicitly included natural or blue-green infrastructure in city and regional development plans (Delhi Development Authority 2021; Mumbai Metropolitan Planning Committee 2021)," the study says.
Samrat Basak, director, urban water, at WRI, said, "As India continues to urbanize, we are at the crossroads on whether we continue to develop on existing patterns and lock-in various negative trends for decades with the added burden of climate change, or do we rapidly transition to new pathways of Eco-cities where economy and ecology are valued equally."