Metro subway to connect Aerocity station and Mahipalpur
Jan 20, 2023 12:18 AM IST
This subway, the officials said, will pass under the busy Mahipalpur flyover on NH48, and will be 270m long.
The Delhi Metro Rail Corporation (DMRC) is set to build a pedestrian subway connecting the Aerocity Metro Station with the nearby locality of Mahipalpur, thereby improving accessibility to the Capital's Indira Gandhi International (IGI) airport, officials aware of the matter said on Thursday.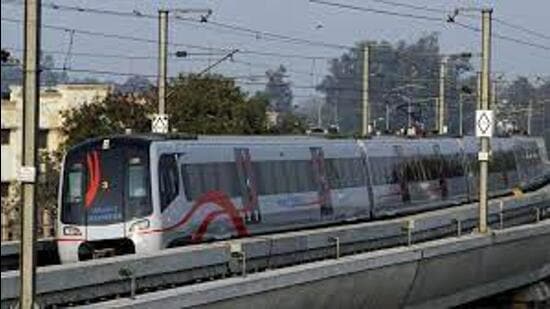 This subway, the officials said, will pass under the busy Mahipalpur flyover on NH48, and will be 270m long. However, no timeline has been set for its completion at present.
Currently, the Delhi Aerocity station is an important station on the Airport Express Line, providing direct connectivity moving ahead to the Delhi airport, as well access to the Aerocity locality. However, people living in hotels in Mahipalpur are forced to cross the busy NH-48 to cover the 400m-odd distance to the Metro station. "Therefore, this subway will be a major infrastructural boost for the area," a DMRC spokesperson said.
The spokesperson said that in addition to providing access to Metro commuters, the subway will also be open to pedestrians wanting to cross the highway.
"Since the second phase of expansion, DMRC has tried to build such subways as well as foot-over-bridges, which can also be used by the general public. The Outer Ring Road and the highway connecting Faridabad have a number of such facilities," the spokesperson said.
The Aerocity Metro station is also set to emerge as a key interlink station going ahead as part of DMRC's Phase 4, as the under-construction Silver Line (Tughlakabad to Aerocity) will terminate here.
A provision has also been kept to connect the subway with a proposed Regional Rapid Transit System (RRTS) station at Delhi Aerocity, which may create a triple-interchange in the area in the future.
"In the future, the station will also have the provision of being turned into a triple interchange, as the National Capital Region Transport Corporation (NCRTC) will also have interchange facilities at Delhi Aerocity for its proposed corridor to Alwar," said Anuj Dayal, principal executive director, corporate communications, DMRC.
DMRC said the civil contract for the interchange Silver Line station has already been awarded, and the Metro corridor is expected to be completed by September 2025.
Earlier this month, DMRC had opened a 130-metre long underground pedestrian subway, connecting the arrivals terminal at T-1 of IGI airport with the Terminal 1-IGI Airport Metro station on the Magenta Line.