Stubble fires count likely to hit 4,000 by month-end: Experts
Since October 7, Delhi's PM 2.5 (particulate matter with diameter less than 2.5 micrometres) concentration has started showing an increasing trend with the daily average PM 2.5 levels exceeding the permissible limit of 60 microgram per metre cube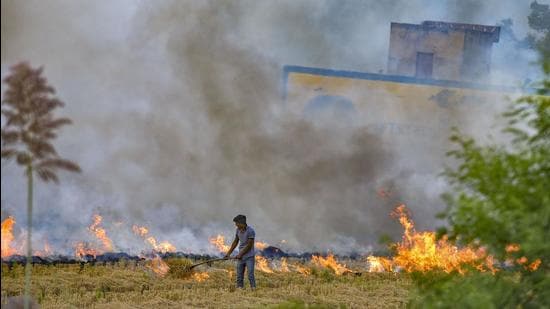 Updated on Oct 15, 2021 06:14 AM IST
By Soumya Pillai and Vishal Rambani
, Hindustan Times, New Delhi
Between September 1 and October 13 this year, over 1,160 instances of stubble fires were reported just from Punjab, showed an analysis by Council on Energy, Environment and Water (CEEW).
Experts from CEEW said that while the stubble burning season in the neighbouring states of Punjab and Haryana have had a slow start this year, the daily fire count is likely to reach around 3,000-4,000 by late October and early November, which is considered to be the peak time for stubble fires.
"Since October 7, Delhi's PM 2.5 (particulate matter with diameter less than 2.5 micrometres) concentration has started showing an increasing trend with the daily average PM 2.5 levels exceeding the permissible limit of 60 microgram per metre cube (µg/m3)... The daily fire counts in Punjab and Haryana combined are less than 250 at the moment. We are already in mid-October, only a week away from the peak stubble burning window from late October to early November, when the count is expected to go up to 3,000-4,000 fires a day," said L.S. Kurinji, programme associate, CEEW.
She added, "In the coming weeks, with changes in meteorological conditions, emissions from local and regional sources will only cause deterioration in air quality. Therefore, the Delhi government should use the air quality forecast and the Decision Support System developed by the Indian Institute of Tropical Meteorology (IITM) to target prominent sources of pollution and roll out the Graded Response Action Plan (Grap) measures in advance to prevent severe air quality conditions in the city."
Officials in Punjab too said stubble burning has picked up pace in the border belt of Majha, including Amritsar, Gurdaspur and Tarn Taran districts, where the harvest of paddy is on in full swing.
On October 13, a total of 132 events were captured by the satellite in Punjab. On the same day in 2019, 117 active fire events were captured, while there were 240 active fire events in the state in 2020.
While Punjab Pollution Control Board (PPCB) secretary said they have begun imposing fines of violators, officials from the pollution body, on the condition of anonymity, said they are wary of taking action against farmers who have been protesting against the three controversial farm laws across Punjab and at Delhi's borders.
PPCB secretary Krunesh Garg said, "The PPCB has started the process to identify farms where stubble burning has been identified by satellite and fines have been imposed."
Topics
Close Story