Was favourite punching bag of my political opponents, says Chandy
Jan 08, 2023 12:04 AM IST
In the solar case I was charged with non-bailable charges at one stage and many senior leaders advised me to take anticipatory bail, but I refused, he said.
Thiruvananthapuram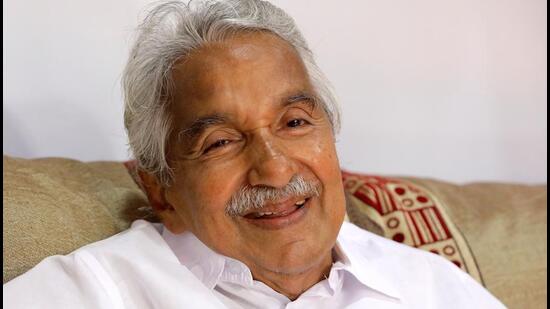 Former chief minister of Kerala Oommen Chandy (79), who is currently recuperating in his house after a long treatment, talks to Ramesh Babu about Central Bureau of Investigation giving him a clean chit in the sexual exploitation allegation levelled by 2013 solar scam accused Saritha Nair, the ongoing Bharat Jodo Yatra and the prospects of the Congress party, among other things. Edited excerpts:
Solar case was the biggest challenge you faced in your six-decade political career?
I don't know whether it was the biggest or smallest, I have been hounded with many charges and controversies as I was a favourite punching bag of my political opponents. In the solar case I was charged with non-bailable charges at one stage and many senior leaders advised me to take anticipatory bail, but I refused. My conscience was clear. Once, K C Venugopal took me to two Congress's legal stalwarts, Kapil Sibal and Abishek Singhvi, in Delhi and I explained the case to them. They also agreed with my position. My life is an open book and I was sure I will come out clean of propped up charges and smear campaigns carried out by political opponents. At one time, even my family members were dragged. I suffered everything in silence, but my conscience was clear.
Who was behind the solar case?
It was only a cheating case, involving a woman (Saritha Nair) and her second husband (Biju Radhakrishnan), and the government did not lose a single penny. I was not aware that these two were in touch with some employees in my office and they flaunted these connections to cheat gullible people. When I came to know, I sacked three of my staff members. I love to be in the midst of people and whoever comes to me I give them a patient hearing. Once, a mentally challenged person sat on my chair and made some calls.
Soon after the cheating case surfaced, there was a flurry of charges and propaganda campaigns. I was shown black flags,and pelted with stones in Kannur by CPI(M) workers. Stories were weaved one after another, but they all collapsed like ninepins now. When I was pelted with stones in Kannur in 2013, many leaders wanted to call a statewide protest, but I stopped them. Now, several leaders asked the CPI(M) to apologise for hounding me, but I did not expect that either. Big cutouts of mine, garlanded with slippers, were put on display outside the State Secretariat, but I never had them removed. Now, people get arrested posting comments against the CM on social media. CPI(M) leaders should realise that such smear campaigns will backfire one day. I don't want to draw any parallels with other cases either (gold smuggling case).
At the height of the solar scam case, there were reports that a section of the party disowned you?
I don't think so. The party fully supported me through thick and thin. I don't know whether some of our leaders have nursed any grudges against me on the issue. Another theory being floated around was that the solar agitation was withdrawn in lieu of going slow in the 2013 TP Chandrasekharan murder case, but it was baseless. I have never been a party to such deals. What can you do if people come up with such studded lies and flattened theories? The ruling CPI(M), however, was forced to withdraw the stir after it failed to provide basic facilities to a big crowd of party workers assembled in the state capital in the name of protest. I feel politicians should not stoop so low.
Why are state leaders not supporting Shashi Tharoor?
Tharoor is an asset to the party and nobody can ignore him. He is a senior leader and enjoys much influence among party cadres, especially youngsters. When he came here to join politics, the party gave him an important seat, which he has retained thrice. No doubt he can play an active role in state politics also. I heard some leaders kept away from his programmes, it is not good. I hope such misunderstandings will never recur.
Do you think the Bharat Jodo Yatra will lift prospects of the Congress, and pave way for Opposition unity?
It is a historic move. Criss-crossing the country on foot is a herculean task. He (Rahul Gandhi) is making waves and the ruling BJP is quite worried over his popularity, and there were even attempts to stop it. Though he made it clear that the rally is not political, and aims to understand people and unite them against the politics of hatred. It is eventually making way for Opposition unity. Regional parties and others are putting small differences aside to join the yatra. It is paving the way for a common platform. It is really good for the country.