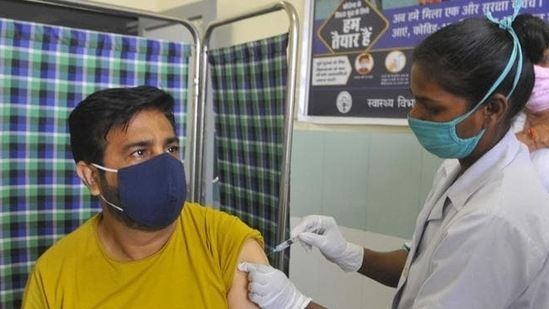 'Free of cost' Covid-19 vaccination in Delhi for everyone above 18, announces CM Kejriwal
Addressing a virtual press conference, Delhi chief minister Arvind Kejriwal announced on Monday that the Delhi government has given approval to procure 13.4 million vaccine doses.
UPDATED ON APR 26, 2021 12:11 PM IST
Delhi chief minister Arvind Kejriwal announced on Monday that vaccination against the coronavirus disease (Covid-19) in the city for everyone above the age of 18 will be "free of cost." Addressing a virtual press conference, Kejriwal said 13.4 million vaccine doses will be procured by the Delhi government.
Also Read | These states will provide free Covid-19 vaccines from May 1. Full list here
"All of us can see that Covid-19 has wreaked havoc across the country and everyone feels that vaccination is the only way to defeat this disease. The Delhi government has decided to provide free vaccination to those above the age of 18," The Delhi chief minister said. "This morning we gave approval for procurement of 13.4 million vaccine doses in Delhi. We will try to procure these as early as possible and a large number of people are vaccinated," he further said.
Those who have received their jabs, the chief minister said, either do not contract Covid-19 or are mildly affected by it. "Most of them do not require hospitalisation and even if they do, their condition does not get serious. If everyone is vaccinated, Covid-19 will become an ordinary illness," Kejriwal said.
With daily Covid-19 cases witnessing a rapid and worrying rise, the Union government, on April 19, announced that from May 1, every citizen above the age of 18 shall be eligible to be vaccinated against the viral disease. This will be the third phase of the nationwide vaccination drive against the pandemic, which began on January 16 and is the largest globally, with registrations scheduled to open from April 28.
Also Read | Odisha announces free vaccine for 19.3mn people in 18-45 years group
According to the health department's latest bulletin, issued on April 25, the number of people vaccinated in the Capital currently stand at 2,949,187. Of these, 2,383,036 beneficiaries have received their first dose, while 566,151 have received both their doses. In the preceding 24 hours, the bulletin showed, 69,677 beneficiaries were inoculated, including 47,960 who received their first dose and 21,717 who received their second jab as well.
Nationally, more than 141 million vaccine doses have been administered, including 995,288 in the previous 24 hours, according to the Union ministry of health and family welfare (MoHFW) dashboard on Monday morning. Two vaccines are being used currently: The Oxford University-AstraZeneca shot, which is being manufactured here as "Covishield" by Pune-based Serum Institute of India (SII), and Hyderabad-based Bharat Biotech's Covaxin, the country's only home-made vaccine against the disease, thus far.
A third shot, Russia's Sputnik V, was given emergency use authorisation (EUA) earlier this month.
Close