TMC's Anubrata Mondal gave only
₹

7 lakh for

₹

1 crore lottery ticket: Winner tells CBI

Published on Nov 25, 2022 05:10 AM IST
The Bharatiya Janata Party has alleged that TMC leaders are laundering money through lottery operations in the state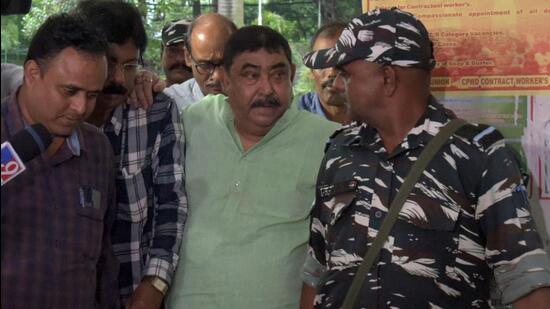 Trinamool Congress strongman Anubrata Mondal gave only ₹7 lakh against his offer of ₹83 lakh for a lottery ticket with the first prize of ₹1 crore in December last year, the actual winner, Sheikh Noor Ali, told the Central Bureau of Investigation (CBI) on Thursday in connection with the probe into the West Bengal cattle smuggling case.
The TMC's Birbhum district unit president was arrested on August 11 for his involvement in the scam.
Noor Ali, who was found at Birbhum's Baro Simulia village by the federal agency after an extensive manhunt, avoided the media on Thursday, but his father Kotai Sheikh told reporters that Mondal's men gave only ₹7 lakh in cash and took away the ticket.
"They threatened to kill us if we did not part with it. They gave only ₹7 lakh in cash to my son and promised to deposit the remaining amount ( ₹76 lakh) into our bank account. The money never came," Sheikh said from his home in Baro Simulia village.
"My son and I fled the village and went into hiding after the incident. We are scared. They may target us now. I don't know the identity of these men," he added, breaking down in tears.
The lottery is held by a company based in Nagaland. The CBI is investigating whether Mondal, who is now in judicial custody, procured the prize-winning ticket to launder proceeds from the cattle smuggling operation.
The Enforcement Directorate (ED) is running a parallel probe into the lottery company's operations in West Bengal as relatives of two more TMC leaders have recently won the first prize.
Speaking on conditions of anonymity, a CBI officer said records showed that Mondal got the first price in a draw held on December 7, 2021. He was declared the winner of ₹1 crore against ticket No 89H54045 priced at ₹6.
However, when the lottery company published a newspaper advertisement in January this year with Mondal's photograph announcing him as the winner, he denied the information before the local media.
"I am not aware of any such thing," Mondal said in January.
On November 4, a CBI team went to the agency's camp office in Bolpur town of Birbhum and questioned lottery dealer Sheikh Ainul, sub-dealer Rajib Dhibar, and retailer Sheikh Munna. A Bolpur-based lottery distributor, Bapi Ganguly, was also grilled twice at the CBI's Kolkata office.
Also Read: ₹50 lakh lottery win of Bengal cattle smuggling accused under CBI lens
Ganguly was questioned by the CBI once again in Bolpur on Thursday. While talking to reporters, he denied having any role in the ticket changing hands.
"I came to know that Anubrata Mondal had purchased a lottery ticket from someone for ₹83 lakh. He called me to check whether the ticket was genuine. I did not ask the real prize winner to sell it to him. I did not sell the ticket in the first place. It was sold by a retailer. I have no role in any of this," Ganguly claimed.
Sheikh Munna, the retailer who sold the prize-winning ticket according to the company's records, told the CBI that he did not sell it to Mondal.
"I sell tickets in local villages. I can't remember who bought it but it was certainly not Anubrata Mondal," Sheikh Munna told reporters on November 4.
The Bharatiya Janata Party (BJP) has alleged that TMC leaders are laundering money through lottery operations in the state.
Leader of the opposition in the legislative assembly, Suvendu Adhikari, sent a letter on this issue to Union home minister Amit Shah in November last year, around a month before Mondal 'won' the prize.
State BJP president Sukanta Majumdar has also demanded a probe by federal agencies.
TMC has not commented on Thursday's developments.
Personalise your news feed. Follow trending topics