Armed with multi-lingual skills,seers sans formal education expertly deliver discourses
Published on Jan 18, 2023 08:13 PM IST
Being multi-lingual has helped them propagate Sanatan Dharma across the country and even abroad for years now.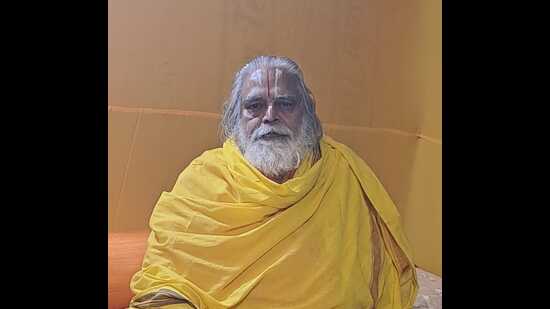 PRAYAGRAJ: Many saints attending the magh Mela do not have any formal school or college education, yet they give discourses, expertly orating tales from revered Hindu texts. Interestingly, many of them speak in different languages like English, Sanskrit, Assamese, Oriya and Tamil among others.
Being multi-lingual has helped them propagate Sanatan Dharma across the country and even abroad for years now.
These saints say that they have to go to many places for propagate religion. Earlier, only Hindi and Sanskrit were known to them, but with time it became necessary to deliver discourses in the language of the state they were visiting so as to ensure that locals understood what they were saying.
Swami Krishnacharya has come to Magh Mela from Mathura and has set up his camp on Sangam Lower Road in the Mela area.
"I have never gone to school or college. In childhood itself, I became a disciple of the well-known saint Guru Sita Ram Tyagi. He was a very knowledgeable person and was well-versed in multiple languages. I started learning these languages from him while studying different religious texts under him," shared the saint.
Today Swami Krishnacharya preaches in Sanskrit, English, Hindi, Tamil and Malayalam languages.
"I have also visited many countries, including the US, UK and Australia and delivered discourses there in English also," he added.
Similarly, well known saint Swami Adhokshjanand Devtirath, has studied in a Gurukul.
"I learnt Sanskrit and various Sanatani traditions there. But with time I had to learn other languages to reach as many people as possible. My guru Swami Niranjan Devtirth helped a lot in this. Even more help was given by his Guru Swami Bharati Krishna Devtirth. Today I have good command over many languages like English, Hindi, Sanskrit, Assamese, Oriya, Marathi and Bengali, besides Arabic and Urdu ," he shared.
Swami Adhokshajanand Devtirth has also visited Pakistan and Bangladesh to preach about Sanatan religion.
Saint Sitaram Das of Khak Chowk said, "I attended school till class 5 while living in Malad in Mumbai. However, today I can fluently speak English, Hindi, Sanskrit and Marathi which has been a great help while travelling across the country to give orations."
Sant Prabhakar of Gayatri Ganga Charitable Trust may have been conferred the title of Acharya for his knowledge of the Sanatan dharma but English was always a challenge for him. "However, after coming in contact with Guru Paramhans Atmadev, I worked hard and with his support and encouragement managed to get a good command over English. This has helped me in preaching all over the world, including Sri Lanka and Bangladesh, despite not knowing Tamil or Bangla," he said.