Class 12 topper's DU dream elusive as family couldn't arrange for
₹

30,000

Updated on Nov 26, 2022 10:58 PM IST
After the setback, Sejal from Kanpur Dehat aspires to clear the UPSC and get into civil services. "I will fulfil this dream from Akbarpur," she says with a resolve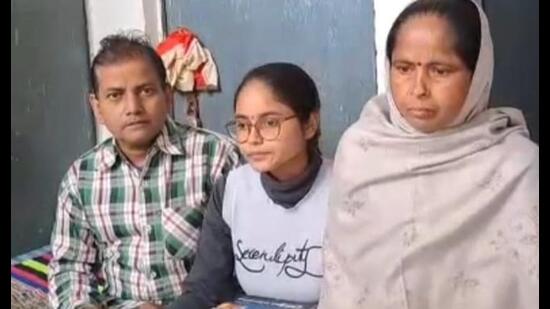 KANPUR Sejal Chaurasia, 18, a topper of Class 12 board exams in Kanpur Dehat, had a dream of pursuing the science stream from Delhi University. But it didn't translate into reality as her family could not arrange ₹30,000 needed for her admission to DU, even after clearing the Central University Eligibility Test (CUET) in September this year and securing a seat in the university.
"It was always my dream to study in the best university (like DU). I received a link from DU, asking us to deposit ₹30,000 fee in two days, but my father could not arrange the funds," said Sejal, whose father Umesh Chaurasia is a worker in a factory in Rania, some 20 km away from her house in Akbarpur (Kanpur Dehat), and mother Sangeeta a homemaker.
Sejal Chaurasia, who lives in a one-room house in Kanshiram colony of Akbarpur, had secured 91.4% marks in the UP Board Intermediate examination this year, which was the highest in Kanpur Dehat. Chief minister Yogi Adityanath had felicitated her at a function for meritorious students in Lucknow.
After clearing the Class 12 examination with flying colours, her first task was to get into DU for higher education. On September 19, Sejal appeared for CUET and got a place on the merit list. She got a link from DU on September 22, asking her to deposit the fee in two days.
"Sejal has always been a meritorious student. I approached my factory manager for a loan, but he turned down the plea. I went to banks for education loan, but there were so many formalities that it would have taken months. My relatives also could not spare money," said Umesh.
"I am deeply pained as I could not arrange the money to fulfil her dream," he rued. Sejal's mother, Sangeeta, who is not keeping good health, said her daughter was upset for several days. "One day, she went to Akbarpur Degree College and took admission there," she said.
Sejal said she hadn't given up after this setback. "I did not know that the fee structure of DU will be high….my family was not in a position to afford it. But I still have a dream of clearing the UPSC and get into civil services. I will fulfil this dream from Akbarpur," she said with a resolve.