Electrification of rail broad gauge routes to be completed by Dec
Feb 04, 2023 11:08 PM IST
General manager, CORE, Pramod Kumar congratulated the entire team of officers and staff associated with railway electrification and said it was only due to their collective efforts that CORE as a team had scaled new heights
With completion of 98 years of electric traction system in Indian Railways, 85% of broad gauge (BG) routes have been electrified and the balance network is slated for completion by December 2023 with Prayagraj-headquartered Central Organisation for Railway Electrification (CORE) playing a leading role in it.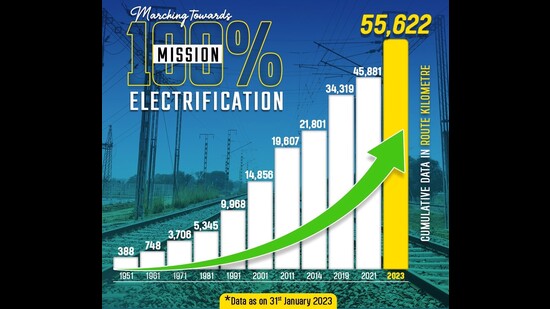 In this way, even before completion of 100 years of electric traction system, the entire BG network would be completely electrified and this will be a milestone in the history of railway traction system and will take the railway transportation system and economic development of the country to newer heights, said CORE officials in Prayagraj.
Speaking at a seminar on "History of electric traction and upcoming 2x25 KV traction system" at CORE headquarters, the officials threw light on the history of electric traction and the 2x25 KV traction system in detail.
"The 2x25 KV network is a new electric traction system which will be incorporated in various sections where there is a need for high-speed operation and capacity enhancement due to its advantages like better voltage regulation, increased line capacity, decreased Traction Power Substations (TSS) feeder current etc," the speakers said.
General manager, CORE, Pramod Kumar congratulated the entire team of officers and staff associated with railway electrification and said it was only due to their collective efforts that CORE as a team had scaled new heights. He expressed his happiness that CORE family would be a part of the team that will witness complete electrification of BG network and associated benefits in the coming times.
During the seminar, it was informed that first train on electric traction was started on 1500 V DC system from Bombay Victoria Terminus to Kurla Harbour on February 3, 1925. This was the turning point in the development of railways and growth of sub-urban transport system for Mumbai as also for other metropolitan cities. Madras (now Chennai) was second metro city to get electric traction in southern railway on May 11, 1931.
Up to Independence, India had only 388 RKM of electrified tracks. Post-independence, electrification of Howrah-Burdwan section was carried out at 3000V DC. However, keeping in line with international standards for electric traction, 25 KV AC system was adopted in Indian Railways in 1961 which at present is the backbone of traction network.
After 2014, keeping in view the inherent advantages of electric traction such as energy efficient, eco-friendly, economical and faster mode of rail transportation, a much higher thrust was given to electrification works and it was taken up in a mission mode. As a result, the electrification works increased nearly 10 times in Indian Railways since 2014— from 610 RKM in 2013-14 to 6366 RKM in 2021-22 of which CORE had the lion's share. On the occasion, all heads of the departments and other officers were present.