Yogi Adityanath reiterates commitment to turn Ayodhya into global tourist destination
Published on Nov 27, 2022 10:31 PM IST
Uttar Pradesh chief minister Yogi Adityanath launches ₹1057 crore development projects, says Ayodhya was kept in darkness earlier but now shining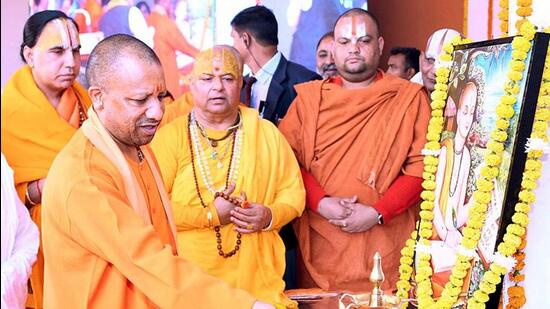 Chief minister Yogi Adityanath on Sunday launched development projects worth ₹1057 crore in Ayodhya and expressed displeasure over slow pace of some works, asking officials to speed them up and do a weekly review.
Ayodhya, previously deprived and in darkness, was now rising and shining globally, he said.
Yogi Adityanath, who was in Ayodhya to inaugurate Ramayan Mela and reviewed projects, also addressed Prabbhudh Jan Sammelan (meeting of intellectuals) at the Government Inter College.
"Projects worth ₹30,000 crore have been approved by the state and central governments for the development of Ayodhya," the chief minister said.
"Ayodhya remained in darkness under previous regimes. Previously deprived Ayodhya is now rising and shining globally," he added.
Yogi Adityanath launched 37 projects and laid the foundation stone of nine others.
"Rule of law has been established in the state. Those who roamed like 'dadas', today are driving carts with their heads bent low," Yogi Adityanath said.
He also reiterated his government's resolve to make Ayodhya a global tourist destination.
Under PM Modi's leadership a grand temple of Lord Ram is finally being built after a long wait of 500 years, he said.
Later, CM also inaugurated 41st Ramayan Mela at Ram Katha Park.
Shri Ram Janmabhoomi Teerth Kshetra Trust chairman Mahant Nritya Gopal Das and other saints were also present.
Reviewing projects of the Ayodhya Vision Document- 2047, Adityanath expressed displeasure over slow pace of work.
Taking stock of the 13-km Ram Path from Sahadatganj to Naya Ghat, the longest stretch earmarked for expansion, CM said accountability will be fixed for tardiness in work there.
Against 1100 scheduled sale deeds only 55 have been executed till date on this stretch of the road.
These deeds have to be signed between the Ayodhya administration and shopkeepers or land owners whose property is being acquired for the project.
Earlier, CM paid obeisance to Ram Lalla on the Ram Janmabhoomi campus and Lord Hanuman at Hanuman Garhi.
RAM TEMPLE INAUGURATION COUNTDOWN
After the Deepotsav celebrations in 2023, preparations will begin for the inauguration of the Ram temple, the chief minister told officials in Ayodhya.