15-month-old Navi Mumbai girl diagnosed with rare metabolic disease
Jan 04, 2023 12:01 AM IST
She will have to take low protein and low-fat diet throughout her life. Her parents will continuously need to monitor the levels of certain enzymes. She might need medication for managing the different symptoms of the condition, if they arise," said dietitian Sheetal Mahamunkar
Mumbai: A 15-month-old girl from Taloja has been diagnosed with a rare metabolic disease – beta ketothiolase deficiency – of which there are only 250 documented cases in medical literature while its prevalence is said to be 1 in 1 million births.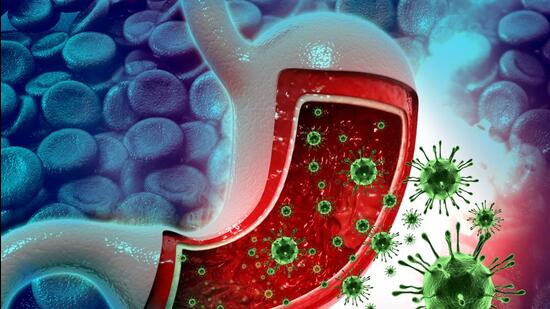 This deficiency is an inherited disorder, which inhibits the body's ability to break down a protein called isoleucine and utilise ketones.
The girl was initially admitted to a nursing home after she complained of vomiting, poor appetite, loose stools and breathlessness. She did not respond to the treatment for gastric issues there and was then taken to Medicover Hospital, Kharghar, on December 17 and admitted in the paediatric intensive care.
Despite medical care, her health kept deteriorating, prompting the doctors to investigate if she suffered from any metabolic disorder. The doctors found out a couple of days later that she had beta ketothiolase deficiency.
"When she was in the ICU, the child started suffering from breathlessness, severe dehydration and was semiconscious despite administering IV fluids. She also had a persistent metabolic acidosis (excess of acid in body tissues or fluids) with the level of ketones in the body being very high despite normal glucose levels," said Dr Narjohan Meshram, head of the Pediatric Intensive Care Department.
These symptoms reminded the doctors of a rare metabolic disease they had read about in their textbooks. That is when Dr Meshram got in touch with Chennai-based metabolic diseases expert and lab director of LifeCell International, Chennai, Dr Mahesh Hampe. Investigations into her condition began.
Meanwhile, the child was intubated and put on a mechanical ventilator. She was also administered what is called a metabolic cocktail consisting of multivitamins and IV fluids. She was also put on peritoneal dialysis to flush out the excess acid from the body. After three days of hospital stay, the acidosis resolved, and she could breathe without ventilator support a couple of days later.
The doctors received the report of her metabolic blood and urine screening, which confirmed the theory of the medical team that she indeed had beta ketothiolase deficiency. The doctors have also sent her samples for a gene mutation analysis, the reports of which are expected to arrive this week.
The child was discharged from the hospital after successful treatment last week. However, throughout her life she would need to follow a specific diet, for which she is being helped by dietitian Sheetal Mahamunkar.
"She will have to take low protein and low-fat diet throughout her life. Her parents will continuously need to monitor the levels of certain enzymes. She might need medication for managing the different symptoms of the condition, if they arise," said Mahamunkar.
Dr Meshram said, "If the acidosis is too severe, it can be fatal for the kid, or cause metabolic coma in which the metabolic system of the body gradually collapses."