Adulting sucks: Trust why we must
Updated on Jan 24, 2023 12:57 AM IST
The older we get, we get better at understanding that most things including building trust is not a simple linear process. There are moments as life unfolds when trust can either deepen or get broken in that second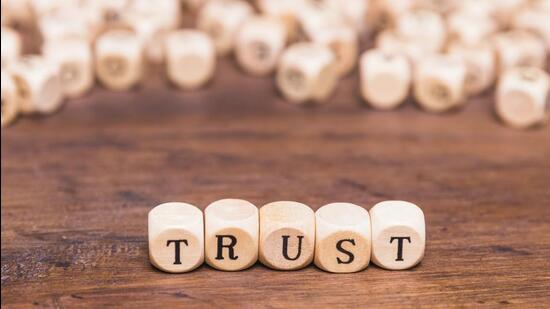 I was about 10 or 12 years when I experienced what felt like my first betrayal in friendship. Two of my friends, in swift succession, drifted away. I wept and fretted but that experience also made me think about trust. I recall my mother consoling me and telling me that with time we get better at recognizing who really our friends are. I took her advice to heart, and thought that with the passage of time and adulthood, I will get better at trust and will know exactly how to avoid hurt.
In short, I believed that adulthood equals getting better at trust.
Here I'm with almost two decades of working as a therapist and as someone who is supposed to understand human behavior, I can tell you process of developing and sustaining trust is complicated. Stepping into adulthood doesn't mean we just get better at it. At the same time, the older we get, we get better at understanding that most things including building trust is not a simple linear process. There are moments as life unfolds when trust can either deepen or get broken in that second.
Many millennials feel muddled about trust. Some of them feel that they began adulthood with a rosy idea of blind trust whether in relationships or at organizations and got betrayed while yet others feel they have to be constantly vigilant trusting others. But like several other things in life the intuition we have about people is pattern recognition, and its important to trust that.
GenZ, unlike other generations, is far more open to initiating conversations about trust. They are actively mindful in not crossing boundaries, which is very closely related to the idea of trust. Post-pandemic especially most of them feel that it's hard for them to trust organizations and systems, online onboarding, remote work, and slim chances at informal interaction seem to all have an impact on how and in whom they repose their trust.
Adulthood has slowly taught me that it helps to build some parameters that allow for slow pacing in relationships and yet I know the list is not foolproof. Sometimes we confuse warmth with trust. Now I do understand warmth that somebody shows either at work or in relationships is an attractive quality, and yet, only when this initial show of warmth is followed with consistency and certain reliability does it lead to deep trust and the relationship developing. Learning to be patient and seeing people across situations allows us to develop trust gradually, rather than putting people on a pedestal right away. People who share similar values, are dependable, show compassion and are reciprocal when it comes to intentions, words and actions allow for a good beginning. Yet a part of being human is that we all will experience sneakiness, an ulterior motive, betrayal and in those moments, we may find ourself struggling with trust again.
For all of us adulthood came with moments where personally or professionally there were people who took a chance on us even when they barely knew us, and this experience is healing and allows us to give trust and life another chance.
Such experiences have helped me carry these parameters gently, walk with my eyes and ears open and yet not become bitter but approach life with a certain openness and hope, and be gentle with myself when trust gets compromised.