Coomi Wadia can go from a Goan folk song to a tango to song from the Vedas with equal flair
Jan 28, 2023 11:52 PM IST
For India's first female conductor, who has been leading the Paranjoti Academy Chorus for more than 50 years, the honour of the Padma Shri arrives not a moment too soon
Mumbai: In life, as in their music, choristers stand by each other. I see this first-hand when I sit down to talk to conductor Coomi Wadia at Gaylord, Churchgate. Four members from the Paranjoti Academy Chorus (PAC), from three generations, have arrived to congratulate her on her recent Padma Shri. One of them says, "This is the first time we're meeting since we heard the news."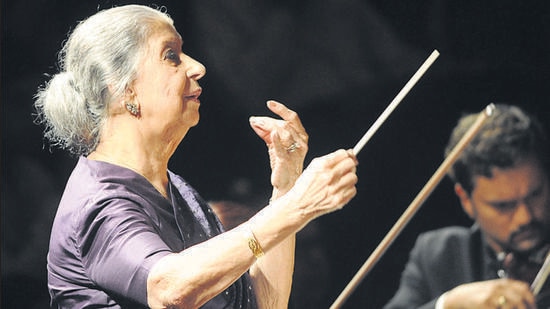 Wadia has been PAC's conductor for 56 years. She has led them over 200 concerts, with tours in 18 countries. She has conducted them in front of heads of state and heads of religions. Over its long run, choristers have come and gone, as life, and death, took them in different directions. But, Wadia has remained its lodestar. She has witnessed the birth of the choir, even the birth of the nation that has now conferred upon her the Padma Shri.
"My mother was born to be a conductor," her son Sorab had said, when Wadia was awarded 'Laadli of the Century' in 2018. "Even when she was 12 years old, she was the one rallying the neighbourhood kids and making them put on concerts and organise evening performances. They would make their own tickets, do their own costumes, the works." In her acceptance speech at the time, Wadia had said, "I came across music by sheer chance. My mother was a widow at 31. She didn't have the slightest intention of making me learn music. But suddenly, one of my dad's friends gave her a second-hand piano, saying, 'Make Coomi learn this.' It fell into my lap out of nowhere." At Gaylord, she says, "I started playing the piano at the age of nine. When I turned 15, people would call me to participate in choirs, either in school or college. And, it just became a part of my life. Music was always a part of my life."
With two diplomas in piano from Trinity College London, Wadia joined eminent conductor Dr Victor Paranjoti as a soprano. "Dr Paranjoti was a great musician," she says. "He saw the ability of music-making in me. I was his right-hand lady. He would always say, 'Coomi, do this, or do that.' Unfortunately, I had a short span of time with him before he died." Maestro Paranjoti passed away in February 1967, and the baton passed on to Wadia. "My husband Nariman told me, 'If you don't take it on, the choir won't survive.'" She conducted her first performance on May 24, 1967, at Patkar Hall, Churchgate. In a neat bun, and a black sari, she waved the baton like a magic wand.
Bach-to-Bach
From the Western classical canon, works by Bach, Beethoven, Handel, Haydn, and Mozart have filled up the choir's sheet music. But, Wadia has also honed them to perform music "from the four corners of the earth".
At Gaylord, Vispi Unwalla, a stockbroker who has been with the choir for close to 30 years, says, "Her repertoire is wide-ranging. She can do a Goan folk song, a tango, a song from the Vedas, or symphonic poems with equal flair. She was once invited to do a course on Bach with a well-known conductor called Helmuth Rilling in Germany. When she performed at the end, he asked her, 'How did you get this interpretation?' This is one of the greatest Bach exponents asking someone who has come for training." The choir has also performed in 22 languages, including African-American spirituals and original Indian music. Sorab had once said, "It's truly wonderful to see a choir of women dressed in saris singing music that African-Americans would normally sing. It's unusual and brilliant."
Wadia's role in guiding the choir is defined by Cynthia Thyle, a retired teacher who has been with PAC for almost 50 years, when she says, "She is a perfectionist, which is how she gets the performances she gets. None of us are professionally trained singers. But, she could work with anybody. That's the beauty of it. Her hands are magic. Her gestures are minimal. It's just one finger pointed in the right direction." When Unwalla admits, "She was very strict," Wadia interjects from behind, "I used to beat them up." We laugh, and Unwalla continues, "Through the music, there's a strong element of kindness in her. She encourages you and brings you up. Whether there are three people or 30 people, her level of commitment is the same."
With a touch of hero worship, Sorab had said, "My mother is a formidable and talented woman, who has always marched to the beat of her own drum. She never, ever gives less than 100 per cent." And, Thyle says, "We've combined with the Symphony Orchestra of India and many other choirs. She never left her group by itself. She would always be there during rehearsal, like a mama bear watching over the little bears."
The troupe of 35 singers meets once a week, with rehearsals taking place across several schools in Fort. "When you sing in a choir, there's a spirit of harmony, which you can't get if you play individual instruments," says Unwalla. "This only comes out when there's a group, and you sing with someone next to you on either side. And you blend, you don't try to stand out. That's where real music, the essence of your music is: in your respect and adoration for the conductor, and your warmth for the people around you." This is a sentiment that goes both ways. As Wadia had once said, "It's only the love of music that makes them come month after month, year after year, to the rehearsal room. We don't earn a penny from it. We don't even get transport money. But, to stand and make music for an audience who is so moved by it, that is the reward we get."