Doctors of BMC-run hospital not paid last six months' salary
Jan 19, 2023 12:09 AM IST
Each doctor at the Brihanmumbai Municipal Corporation (BMC) run Hindu Hruday Samrat Balasaheb Thackeray Trauma Care, Jogeshwari, has close to ₹5-8 lakh pending as salary
Mumbai: Doctors manning the intensive care units (ICUs) at the Brihanmumbai Municipal Corporation (BMC) run Hindu Hruday Samrat Balasaheb Thackeray Trauma Care, Jogeshwari, have not received their salaries since August 2022. The corporation had tied up with Jeevan Jyot Charitable Trust to provide doctors to manage its 30 ICU beds. Each doctor has close to ₹5-8 lakh pending as salary.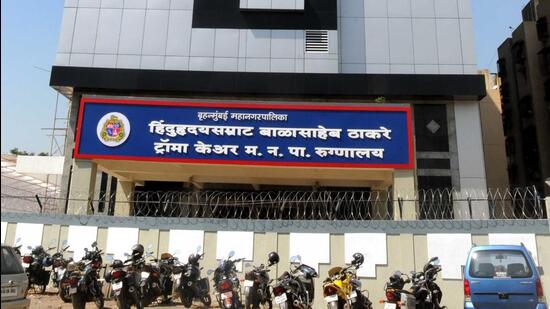 The 14-storey Jogeshwari Hospital has three ICUs- surgical, medical and trauma — that are managed by 10 doctors in shifts. "Most of us have loans and our EMIs are getting bounced. We do not come from well-to-do families. It is becoming difficult to make the ends meet with no salary for the last few months," said a doctor.
The doctors have written to the medical superintendent of the hospital last week and have been following up with the BMC. "We have been hired by the trust. As per their contract with the BMC, the corporation pays the trust and the trust pays our salary. We have been trying to follow-up with the trust but they said they have not received funds from BMC to pay our salary," said another doctor.
He added they have requested the corporation to intervene at the earliest. Most of these ICU doctors started working in the hospital in 2017 when Jeevan Jyot Charitable Trust got the tender.
Apart from the Jogeshwari Trauma Hospital, the trust also provides ICU doctors to BMC's Bhagwati Hospital and M W Desai Memorial Municipal Hospital in Malad. According to the doctors, there too the doctors have not received their salaries.
The doctors said earlier too there has been non-payment of salary which got resolved after they complained. "This time, it has stretched too long and we are facing acute financial problems. The trust nodal officer has refused to take our calls. We have therefore approached the BMC as we are serving the patients in their hospitals," said one of the doctors.
Dr Sanjeev Kumar, additional municipal commissioner, BMC, said there are no pending dues from BMC's end. "We have paid to the trust and they should pay the doctors. However, if they have not, we will call up the trust and check why there has been a delay. It is a matter of concern," he said.
Calls and text message to Surekha Walhekar, the nodal officer of the trust by HT went unanswered.