FDA registers police complaint against godown owner for storing expired, imported goods
Nov 25, 2022 11:43 PM IST
The raid was conducted at a godown in Momin Nagar, Jogeshwari west, last Friday. They found goods like coffee powder, chocolates, savoury snacks, sauces and spices among other packaged food items worth ₹33,49,921
Mumbai The Mumbai division of Food and Drugs Authority (FDA) continued their campaign against imported goods past their expiry date. This time the FDA conducted a raid on a Jogeshwari-based godown and registered an FIR with the Amboli police on Wednesday.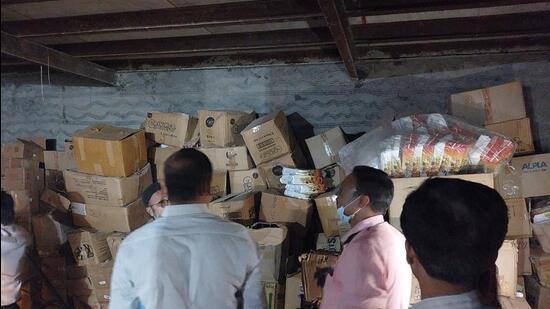 The raid was conducted at a godown in Momin Nagar, Jogeshwari west, last Friday. They found goods like coffee powder, chocolates, savoury snacks, sauces and spices among other packaged food items worth ₹33,49,921.
The oldest items found during the raid were 234 boxes (134 kgs) of Nestle Gold Oat Latte worth over ₹11 lakh which had expired in February 2021. There was no record of date of import. There was also 1500 kgs of imported chocolates from brands like Kitkat, Weis Twirl, Lindt and Toblerone worth ₹7,50,000.
Subsequently, an official complaint was filed against the godown owner Haneef Yusuf Milwala, 51, for violating the Food Safety and Standards Act 2006. His business was ordered to be closed following the raid as he did not have a valid license.
Milwala was booked under IPC 272 (Adulteration of food or drink intended for sale), 273 (selling food items that have become unfit for consumption) and 420 (cheating and dishonesty), along with the various other sections of the Food Safety and Standards Act.
"The godown owner was selling these goods despite knowing they had expired and were unsafe for consumption. These products are harmful for people and could even lead to food poisoning or other health issues, if consumed," a police official said.
The FDA officials even got in touch with the representatives of Nestle India about their products that were seized during the raid. "Nestle told us that this batch of products was not imported into the country by them, and must have been done by a third party. We have already started looking into the network of companies that might be behind such unauthorised import of food items," said an official from the FDA.
The FDA has appealed to the people to keep them informed them about any defective or expired food products they come across in the market on toll free number 1800-222-365.