FDA seizes steroids worth
₹

51 lakh

Published on Jan 26, 2023 12:20 AM IST
The state Food and Drugs Administration (FDA) on Tuesday seized steroids and sexual performance enhancing drugs worth ₹51.27 lakh from an unlicensed supplier in Borivali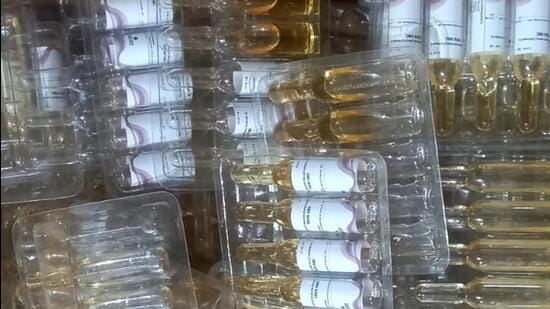 Mumbai: The state Food and Drugs Administration (FDA) on Tuesday seized steroids and sexual performance enhancing drugs worth ₹51.27 lakh from an unlicensed supplier in Borivali.
With the help of the local police, the FDA officials nabbed a person trying to sell the drugs illegally on Tuesday. On enquiry, they got to know that a firm by the name Kosher Pharmaceuticals was the supplier of the drugs. The officials raided the premises of the stockist and found it to have no licence under the Drugs and Cosmetics Act, 1940.
"We found huge stocks of anabolic steroids like testosterone, oxandrolone, stanozolol, estradiol, mesterolone, boldenone, nandrolone, adenosine monophosphate and performance enhancer drugs like sildenafil (Viagra) and tadalafil tablets. The firm was selling the sensitive drugs which are supposed to be used only on the advice of a physician for the treatment of chronic illnesses," an official said.
Authorities appealed to the public to take any medicine only on the advice of a qualified physician and from valid drugs licence holding sellers.