Kharghar, Uran likely spots for Mahalaxmi Racecourse shift
Updated on Jan 25, 2023 01:15 AM IST
Sources in Brihanmumbai Municipal Corporation (BMC) said that the City and Industrial Development Corporation (CIDCO) land in Kharghar or Uran are being considered suitable for the shift. "Mulund dumping ground was not a feasible option," said a BMC insider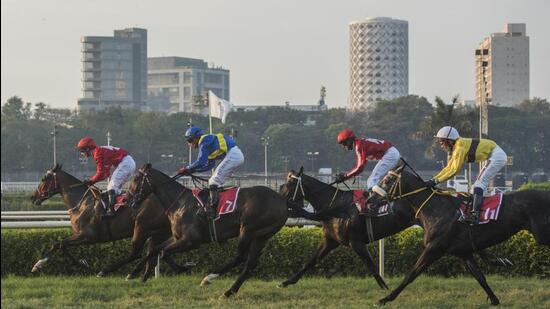 Linah Baliga and Yogesh Naik
Strap: Earlier plan to relocate to Mulund dumpyard deemed unfeasible due to challenge of commute, land price
Mumbai: It is not Mulund dumping ground but Kharghar or Uran that are likely to be the chosen spots where Mahalaxmi Racecourse will be relocated. The state government is mulling over these locations, as both will be in close proximity to where the Mumbai Trans Harbour Link (MTHL) will end in Navi Mumbai.
Sources in Brihanmumbai Municipal Corporation (BMC) said that the City and Industrial Development Corporation (CIDCO) land in Kharghar or Uran are being considered suitable for the shift. "Mulund dumping ground was not a feasible option," said a BMC insider.
A senior officer from the urban development department of Mantralaya has confirmed to HT that CIDCO has been told to scout for a plot in Uran or Navi Mumbai area to shift the racecourse out of Mumbai. The officer expressed optimism, as by 2024 the city's connectivity with Navi Mumbai will be much improved, thanks to MTHL, while the senior officer from CIDCO said they would "love to have the racecourse in Navi Mumbai".
The MTHL is a 22 km-long sea bridge, which is being developed over the Mumbai harbour in the Mumbai Metropolitan Region (MMR). It will start at Sewri, in Mumbai, and end at the Chirle area in Raigad division. The deadline for its completion and subsequent opening is December 2023.
"The state is looking at these options as CIDCO too has many land parcels in Kharghar. Officials have also considered the ease of commute – it will take only 15-20 minutes to drive in from Mumbai via the MTHL route," said the source. Apart from the difficult commute from south Bombay, Mulund also threw up the challenge of acquiring a private land parcel at market rates around the dumpyard, to house the racecourse.
When made abreast of these developments, a senior civic official however, dismissed the idea, as he said, these were "just talks and deliberations" and in all probability, the racecourse "isn't going anywhere from Mahalaxmi".
The racecourse in Mahalaxmi came up as a Grade II-B heritage site in 1883. In 1914, BMC had leased out the racecourse land to the Royal Western India Turf Club (RWITC). In 2013, after the lease expired, BMC plans to write to the government to take ownership of the land and convert it into a theme park. The civic body owns less than one-third of the 225 acres, while the rest is owned by the government.