PM Modi back in Mumbai on Feb 10 to open Bohra academy
Jan 29, 2023 05:14 PM IST
According to sources, Modi is coming for the opening of the Dawoodi Bohra community's Arabic Academy in Andheri East. He is expected to share the dais with His Holiness Syedna Mufaddal Saifuddin. An official from the community said a formal announcement will be made after the protocol formalities are done
Mumbai: Prime Minister Narendra Modi is likely to visit the city again on February 10. This will be the second visit of the PM within a month. On January 19, Modi was in Mumbai to lay foundation stones for a slew of projects and also inaugurate the metro 2 A and 7 lines.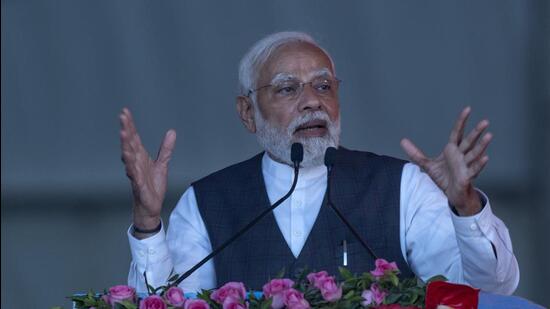 According to sources, Modi is coming for the opening of the Dawoodi Bohra community's Arabic Academy in Andheri East. He is expected to share the dais with His Holiness Syedna Mufaddal Saifuddin. An official from the community said a formal announcement will be made after the protocol formalities are done.
City BJP leaders added that the PM could also attend more programmes during his Mumbai visit. The civic elections in Mumbai and other cities are expected in a couple of months. The local BJP leaders also aim to get more infrastructure and civic projects launched by the PM which could give a boost to their pitch to the voters that the ruling BJP can develop Mumbai's infrastructure.
Following the split in the Shiv Sena, the BJP is now aiming to give a further blow to the Thackeray-led faction by winning power in the Mumbai civic body which has ruled for Shiv Sena for close to three decades.
BJP's victory in Mumbai civic polls would be a major setback for Thackeray. On the other hand, if Thackeray manages to win the Mumbai civic poll despite all odds, it could give a much-needed boost to him to recover lost ground following a split in his party. The results of the Mumbai civic polls would be crucial for BJP and the party is not leaving any stone unturned to win India's richest municipal body. In his last visit, Modi launched BJP's poll campaign by appealing to Mumbaiites to ensure that the same party rules from Delhi to Mumbai so that the development of the city could be put on the fast track. City BJP leaders are now hoping that their most popular leader would now further boost their campaign.
They are also hoping that the Dawoodi Bohra community which has a strong presence in areas of south Mumbai could support their party in civic polls.
A senior BJP leader also said that the party and bureaucrats in the state are planning if any more ground-breaking ceremonies or inauguration of projects can be done on the same day.
Meanwhile, the Anjuman Islam which has entered into its 150th year of service has also called the PM for their celebrations. It is not clear whether the PMO has accepted this or not.
Other leaders like CM Eknath Shinde and the deputy CM are going to share the stage with the PM. He is also likely to have a meeting with them later on regarding the possible expansion of the Maharashtra cabinet as the state has to do cabinet expansion before the budget session of the state legislature.