Pollution causes huge rise in swollen adenoids and tonsillitis in children
Niraj Pandit and Somita Pal
Jan 21, 2023 12:40 AM IST
Across the city and suburbs, the abysmal Air Quality Index (AQI) has been very hard on children who have been routinely falling sick not just with the standard winter ailments but more serious infections like tonsillitis and swollen adenoids
Mumbai: Lavita Fernandes' four-year-old daughter is being treated for tonsillitis (inflammation of the tonsils) for the second time in 30 days. "She returned from school on January 19 with a fever and a sore throat, unable to swallow or speak," said Fernandes. "The doctor confirmed that she had a second bout of tonsilitis. The first was in mid-December when she was put on antibiotics."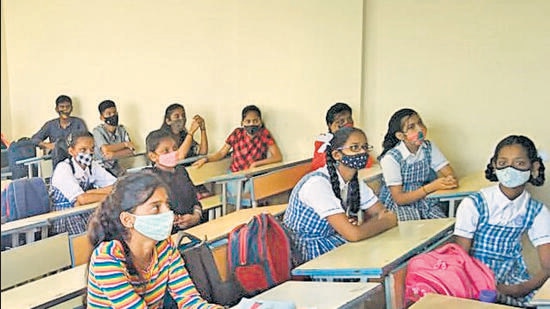 According to the Malad resident, most of her daughter's schoolmates were also suffering from sore throats and colds, and at least four parents had told her that their children had either swollen adenoids (soft areas at the back of the nose and throat ) or tonsillitis. "Their doctors said that air pollution and winter were the reasons. Most of the children have been on antibiotics every month," said Fernandes.
Across the city and suburbs, the abysmal Air Quality Index (AQI) has been very hard on children who have been routinely falling sick not just with the standard winter ailments but more serious infections like tonsillitis and swollen adenoids. Sion resident Sheetal Racharla's five-year-old daughter was discharged from the hospital a week ago after being treated for swollen adenoids for the second time. "The doctor has asked us not to take her outdoors on days that the AQI is bad, and to stay away from areas with construction sites," she said. "Doctors are advising surgeries to remove adenoids and tonsils in children with recurrent problems."
Dr Tejal Shetty, consultant paediatrician, Nanavati Max Super Speciality Hospital, told HT that the hospital was seeing 10 to 15 children with complaints of adenoids and tonsillitis every day. "The dip in temperature and rise in pollution creates a favourable environment for infections," she said. "Most kids have a sore throat, cough and cold, with or without fever. We are also observing a comparatively higher number of sinusitis and hypertrophy cases in children less than three years of age."
Dr Amin Kaba, senior paediatrician practising in South Mumbai, believes the "immunity gap" has played a big part. "We imbibed clean air and clean water and had no social interaction for almost two years," he said. "While viral infections are known to go up in winter, poor AQI, masks off and interactions going up have exacerbated the problem."
Schools across Mumbai have been seeing a significant dip in attendance because of the winter pollution-induced illnesses. While Kanakia International School, Chembur, has seen attendance go down from 99 percent to 70 percent, Orchids International School, Mulund, too has witnessed a dip from 95-98 percent to 70-80 percent, revealed Orchids principal Sunaina Aawathi.
The schools have thus come up with measures, not just on the schoolwork facilitation front – like Kanakia International School's portal where daily classwork and notes are uploaded – but also with regard to children's health. Many of the schools HT spoke to have introduced masks for students and staff to stop the spread of infections. "We are also ensuring that our students get physical exercise in the sun to boost immunity and increase Vitamin D levels," said Shuchi Shukla, principal of Kanakia International School.
Additionally, school managements are also stressing on the need for students to eat healthy. Some schools have made changes in their canteen menu by introducing healthy options such as fruit bowls, and also held sessions with parents to educate them on the benefits of eating nutritious food. Some, like Podar International School at Mira Road, have made it compulsory for students to carry homemade, healthy food to school.
Medicines too are kept ready. "Pollution can also cause long-term damage to one's body, and children are especially vulnerable," said Poonam Thakur, principal of Podar International. "We keep all the requisite medicines in stock for students and keep an eye out for those coughing or sneezing. Ashirwad Lokhande, principal of HL Madhyamik Vidya Bhavan in Borivali said if his students had symptoms like a cold, fever or cough, they were taken immediately to the BMC primary health centre at MHB Colony.