Satish Kaushik gets serious
Updated on Jan 24, 2023 12:26 AM IST
At the age of 66, the veteran comedian, who has acted in more than 100 films, and directed nearly 20, is rebooting his career, along with his body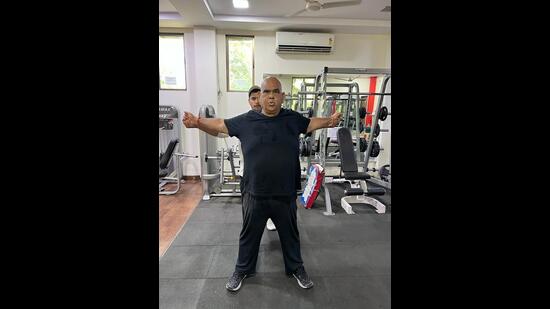 In 'Deewana Mastana' (1997), actor Satish Kaushik played a don called Pappu Pager, in a Garden Vareli shirt and Abbas-Mustan trousers. One of his many zingers was, "Ae jhantoole jhatak, zyaada na matak." (No translation possible.) In 'Bloody Brothers' last year, on Zee5, he played Handa, in sharply-cut business suits and Morpheus glasses. He introduced himself in a low growl as, "Hum khud ko bhi Handa sahab bulate hai." About this role, he says, "My inspiration was Marlon Brando. I changed my voice and added a cigar." This is Kaushik's professional arc. After acting in over a hundred films, and directing more than a dozen, he has begun his second act.
Even as an adult, Kaushik carries his "Karol Bagh-iyat" with him, a neighbourhood he left behind four decades ago. "We were like villagers, even while staying in Delhi," he says. His father was a travelling salesman, and money was always tight. "We were literally living in poverty. My father's monthly income was 300 rupees. How can a family of eight survive on 300 rupees?" But, tough times create tough people. "Since childhood, I used to think of how to get my family out of this situation. I was a dreamer. I wanted to achieve things, which were unachievable."
At Harcourt Butler School (which "was English medium only in name; from inside, it was Hindi medium"), he found a path. "I did a mono act of a pandit, who was reading a katha, while eyeing the ladies in the audience. People just laughed and clapped at my performance." As luck would have it, in college he met the two barons of Delhi student theatre at the time: Frank Thakurdas, at Kirori Mal College (KMC), and Ebrahim Alkazi, at National School of Drama (NSD). "KMC was famous because Mr Amitabh Bachchan had graduated from there."
Even as Kaushik did his BSc "with respectful marks", most of his time was spent in the rehearsal room at KMC. "Franksaab was very fond of me. One day, he called me to his office and said, 'Satish, you should become a professional actor.' I was reed-thin, and not particularly good-looking. But, he said, 'When I see you performing onstage, you are the most good-looking person for me.'" He sent Kaushik to watch plays by the NSD repertory. The first one was in English. "Franksaab asked me for the name. I said, 'Sa-ved.' He said, 'Satish, that is not sa-ved, that is saved.' I thought it was pronounced the way Salim-Javed was." The second one was 'Surya Ki Antim Kiran Se Surya Ki Pehli Kiran Tak'. "I was left stunned by the actors. Even today, while sitting here, I can remember the scent in that room."
We've caught Kaushik on a trip down memory lane in his office in Andheri. A gifted storyteller, his command over Hindi makes every anecdote better. "NSD changed my life," he says. "The only literature I had read till then was Saptahik Hindustan and Dharmyug. But at NSD, I read autobiographies, European plays, American plays, Sartre, Ibsen, Chekhov, Shakespeare, Natya Shastra."
The stage was a pitstop to the screen, and within a year of leaving NSD, he arrived in Bombay on August 9, 1979. "And, on August 16, I performed at Prithvi Theatre." One of the actors for a play called 'Bichhoo' had dropped out. "I didn't even have a proper place to stay. So, I would walk on Juhu beach and learn my dialogues. Till the 16th, Om Puri (in the lead) would get all the accolades. But after that day, people started asking about me: 'Who is this actor? Gazab ki timing hai.'"
Roles kept rolling
Because of his chemistry with Anil Kapoor and Govinda, Kaushik soon established himself as a comic foil. "There's a special thing about the Mumbai film industry. If you're talented, you keep getting noticed." 'Masoom' in 1983 and 'Saagar' in 1985 paved the way for his most well-known role in 'Mr India' (1987). "My first big successful role was Calendar. People know me as him. But, I have made my characters popular: Muthuswamy from 'Saajan Chale Sasural', for which I won a Filmfare award; Sharafat Ali from 'Bade Miyan Chote Miyan'; Kunj Bihari, Jumbo, German, Takiya Kalam, Pappu Pager. I always tried to create some quirk in my character. There should be something for which people remember you." In the '90s, Kaushik also became a director with a 2-4 scorecard: his first two films were disasters ('Roop Ki Rani Choron Ka Raja' and 'Prem'); his next four were blockbusters (from 'Hum Aapke Dil Mein Rehte Hain' to 'Tere Naam').
The gains in his career coincided with the gains in his weight. "In the 1980s, a film person was a party person. I abused my body during those late parties. I became careless. I never looked after myself. I never loved myself." Acting also took a backseat. "My attention shifted, and I started eating more. At one point, I couldn't walk for even five minutes. I'm sure, if I hadn't put on weight, I would have been a bigger director and a bigger actor. The biggest mistake I made was that despite having friends like Anil Kapoor and Anupam Kher, I didn't learn anything from them. I was just focussed on my own enjoyment."
About a decade ago, he weighed 130 kilos; his goal today is to reach below 90. "This year, I'm going to shed all my weight," he says. He takes a 90-minute walk, averaging 10,000 steps, every day, and works with a trainer on alternate days. His exercise videos on Instagram have a sincere fan following. "My main problem is my stomach. I have lost a lot from my face." Twice a year, he does a 42-day course by Dr Christian Middelthon from LA. "In those 42 days, I eat only 500 calories in protein. From November 15 till today, I have lost eight kilos. I'm on intermittent fasting now." His 2023 resolution is: "I want to love myself, I want to believe in myself, and I want to look after my health for my daughter."
An acting heavyweight
Kaushik's acting choices have also taken a sharp left turn, towards dramatic roles. "How much comedy can you do? Before I played Tayaji's role in 'Udta Punjab' (2016), there was a lull in my career. But, people appreciated Tayaji a lot. In 'Scam 1992', Manu Mundra was such a short role, but that abusive character became so well-known. For 'Thar', the reviews said, 'Even if Satish Kaushik is in the background, he is great.' Because it is not about the length of the role, but how you do it and the importance it has received in the script." There is less levity, more gravity now. "This is my period of reinvention, when I'm doing stronger roles, negative roles. I am enjoying playing these underplayed, subdued characters with great power. Little by little, a new Satish Kaushik is emerging."
Pull quote
I'm sure, if I hadn't put on weight, I would have been a bigger director and a bigger actor. The biggest mistake I made was that despite having friends like Anil Kapoor and Anupam Kher, I didn't learn anything from them. I was just focussed on my own enjoyment.
Caption 1 (Profile photo)
Over the past few years, comedian Satish Kaushik has switched genres to strong, negative roles. He says, "The young generation respects you for your good work. If you're not doing good work, they will pinpoint your age." Photo: Satish Bate
Caption 2 (Working out)
Kaushik's debut film was 'Chakra' in 1981. "I was the extremely thin, scrawny boy, who could be blown away by the wind. I hope I get back to that weight."