Vani Jairam: South India's 'Lata' loved bhajans over film music
Feb 05, 2023 12:49 AM IST
I first met Vaniji in 1997 as a producer of Doordarshan during the recording of 'Bharat Bharat Hum Iski Santan', which was composed by santoor maestro Pandit Bhajan Sopori. It was a very popular song on Doordarshan's national channel. We eventually became friends
MUMBAI: Vani Jairam was known for her humility and for remaining rooted as a classical singer – qualities I believe that may have contributed to her inability to survive in the tough-as-nuts Hindi film industry for a long time. I wasn't too far off the mark in my assessment of her either – I once asked her about it when she just smiled and spoke her heart out.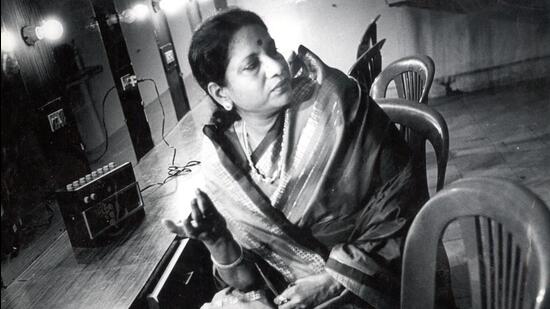 I first met Vaniji in 1997 as a producer of Doordarshan during the recording of 'Bharat Bharat Hum Iski Santan', which was composed by santoor maestro Pandit Bhajan Sopori. It was a very popular song on Doordarshan's national channel. We eventually became friends.
She has sung in over a dozen languages, including Tamil, Marathi, Telugu, Hindi and Bhojpuri. The song 'Bole Re Papihara', from the Jaya Bhaduri-Dharmendra starrer 'Guddi', is one of her iconic songs. It was offered to her by music composer Vasant Desai.
She followed a unique discipline for her music as well, a practice that was evidenced in every song sung by her. 'Bole Re Papihara' was composed in Miyan Ki Malhar raag and the song showcased her classical prowess, subsequently fetching her many laurels. Classical music aficionados will remember and appreciate the manner in which she dropped the 'se' in the lines 'Nit man pyaasa, nit man tarase,' quickly to move on to the next note.
She went on to sing a few songs for music directors of Hindi cinema, but she loved to sing devotional songs the most. Observing the ease of her singing and preparation, composer and renowned sitarist Pandit Ravi Shankar offered her the movie 'Meera' in 1979. She sang all the bhajans in the film. All 12 bhajans, including 'Mere To Giridhar Gopal', remain popular till date.
Through her career, Vaniji lent her voice to more than 10,000 songs in Indian movies. There was no state in the country that the singer's voice had not touched. She has recorded songs in Telugu, Tamil, Malayalam, Gujarati, Marathi, Marwari, Haryanvi, Bengali, Odiya, English, Bhojpuri, Rajasthani, Badaga, Urdu, Sanskrit, Punjabi and Tulu, and more – a total of 19 languages, which is an incredible feat for any singer.
She eventually turned her back on the industry and recorded thousands of devotionals and private albums, apart from travelling across the country and abroad performing in concerts.
She belonged to a family of music lovers and learners, which led her to music since her childhood. Her marital home also supported her music. Her husband, well-known sitar player Jairam persuaded her to train in classical music. Thereafter, she studied under the tutelage of Ustad Abdul Rehman Khan of the Patiala gharana in 1969. Her rigorous training with him led her to quit a steady job at a bank and pursue music as profession.
Her mother-in-law, Padma Swaminathan, a social activist and Carnatic music singer also supported her passion. Her repertoire is wide-ranging – she has sung nuances of various vocal forms such as Thumri, Ghazal, Classical and Bhajans.
Her voice would take on a distinct tenor with every genre she sang. Known as the 'Lata' of the south, Vaniji's voice will live in our memory forever.
(Writer is singer and former IBPS officer at Doordarshan) As told to Niraj Pandit