Stirring Panvel's multi-cultural pot
Published on Jan 21, 2023 11:54 PM IST
It could be the opening line of a politically incorrect joke: A Muslim, a Hindu, a Christian and a Jain walk into a synagogue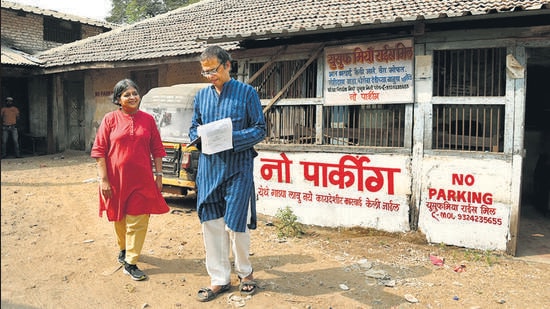 It could be the opening line of a politically incorrect joke: A Muslim, a Hindu, a Christian and a Jain walk into a synagogue. It could be but it isn't. It's just what happened in Panvel a week or two ago.
When I point this out to Professor Smita Dalvi, architect, local historian and co-author with Sonam Ambe of 'Panvel: Great City; Fading Heritage' (MES Publications) she smiles and says, "Panvel was a port, a rich, vibrant trading centre for hundreds of years that brought people of different communities together as traders and sailors and workers. Cosmopolitanism comes naturally to a port."
You could miss the Beth El Synagogue if you did not know where you were headed. It has the look of a house from the street. In many ways this reminds me of many Goan temples which merge beautifully with the houses around them. God lives in a house much like yours and mine, the architecture seems to say. It is a comforting thought. "Yes, the typology is wonderfully in keeping with the street," says Dalvi. Inside, we find ourselves part of a malida, a celebration of Shaili who will be joining military service in Israel and of Adael who has finished his Bar Mitzvah, a coming-of-age ceremony. If 'malida' sounds like a dish, that is because it is: it has become the name of the ceremonial meal.
The Bene Israel Jewish community is well integrated into the cultural landscape. The names begin in the Torah and end on the map of Maharashtra. There is a wonderful music to these names: Moses Solomon Satamkar, for instance, or Rebecca Moses Jacob Karlekar. Malida is made with poha, which was and is a staple of Maharashtrian cuisine of the area. Panvel's poha was and is famous.
Stuffed with food, we walk down the Port Road, now Mahatma Gandhi Road. We are on our way to a rice mill. "The area was fertile and rice grew in plenty. There were twenty or thirty rice mills here. Many of them have closed down and moved to other places," Dalvi says. She has been documenting the area since she moved here in 1994.
The Yusuf Miya Rice Mill is truly magnificent. It has cobwebs that must be rich in nutrition since they are all coated with rice dust. The morning's work is done by the time we get there but one can imagine it in motion, the rice being poured into the hopper, turned and turned again, and then shaken on a flat board so that the husk falls off. Professor Dalvi explains that rice was the axis around which the city developed. "The rice came in bullock carts which would sometimes break down. Thus, a community of wheelwrights developed and soon Panvel was known for repairing and making bullock cart wheels."
Back out in the sunshine, we walk down the road, enjoying the local architecture: a few wada houses are left as are a few town houses. But in many cases, there are new buildings or empty plots waiting for new constructions to happen. We are headed to Tapal Naka, so called because the post to Pune and to Bombay would pass through Panvel, the city of lakes. Many of these talavs, Professor Dalvi tells me, were built by local communities as acts of philanthropy. We pass a talav which has obviously attracted the attention of the local authorities. Concrete is being poured all around it in an attempt to create a walkway and thus 'beautify' the area. I wish sometimes that we would understand that beautifying an area is simple. Plant as many indigenous trees as you can so that you can erase the buildings around. Our journey ends at a cemetery, the Jewish cemetery. It has been fenced in with wire in a manner that makes it completely inaccessible. But it is difficult to argue with this, especially since we are here on the Sunday after the St Michael's Church cemetery was vandalised. Across a path, there is the Istrali (the Marathi version of Israeli) Talao, which was dug at the behest of Seth Karamsey Hansraj who also had a Gujarati medium school built. Inside is the grave of Benjamin Aaron Chincholkar (1910-1983) whose wife Rubybai composed his epitaph in Marathi which has been translated by Dalvi and Ambe into English. The last lines are, 'I ask for you in all my later lives. This is the blessing I ask from the Almighty.'
For a Jewish woman to talk about later lives speaks volumes for the natural and spontaneous nature of Indian syncretism. On that Sunday afternoon, Karamseybhai's talao and Chincholkarbai's poem held out hope.
(Thank you for the many suggestions on jerrywalksmumbai@gmail.com. I will get around to them as soon as I can. Meanwhile, keep a spring in your step. Like the song said, 'Main to chalaa, jaise bahaar…' I know, I apologise.)