Worli 'distress sale': Damani daughters among 28 buyers
Feb 06, 2023 12:31 AM IST
In one of the first big ticket transactions after the union budget, D Mart owner Radhakishan Damani, his immediate family and close associates have purchased 28 units in a bulk deal at discounted rates in Oberoi Realty's luxury project Three Sixty West at Worli for a total of ₹1,238 crore
Mumbai: In one of the first big ticket transactions after the union budget, D Mart owner Radhakishan Damani, his immediate family and close associates have purchased 28 units in a bulk deal at discounted rates in Oberoi Realty's luxury project Three Sixty West at Worli for a total of ₹1,238 crore.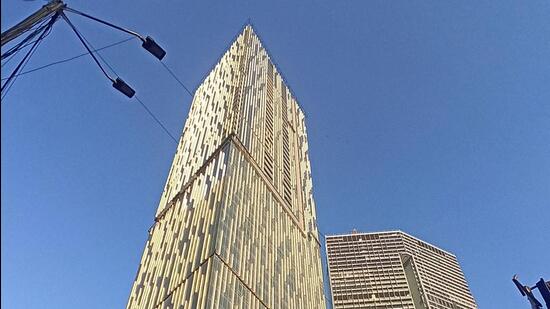 The deal which collectively spans a carpet area of 1,82,0684 sq ft includes 101 car parks. All of them located in Tower B were registered on February 3, documents accessed by Zapkey.com showed.
Industry sources said the bulk deal appears to be to bail out Sudhakar Shetty, whose company Sky Lark Buildcon Pvt Ltd is the partner in this project. The company had taken a loan of ₹1000 crore from DHFL (now Piramal Finance) in 2019, and units were provided as collateral. Real estate experts said lender pressure for repayments could have been why the flats were sold at discounted rates.
Industry watchers said the luxury apartments in Worli sell in an average price range of ₹90,000 per sq ft to ₹1,05,000 per sq ft with flats in Samudra Mahal selling at a slightly premium rate. The flats sold in the Damani deal indicate a price range of ₹65,000 to ₹75,000 per sq ft. The flats registered in the name of Ramesh Damani and Ignatius Noronha have the largest carpet area of 8,345 sq ft and 8,582 sq ft respectively and at their sale prices, the flats have sold at ₹75,701 per sq ft, and ₹75,565 per sq ft.
While these transactions were registered on Friday, on Saturday, Oberoi Realty informed stock exchanges that in line with a resolution passed by the company at its extraordinary general meeting held on December 1, 2022, it was purchasing 63 apartments from Oasis Realty for an aggregate consideration of ₹4,000 crore which includes a total consideration of ₹3,403 crore, stamp duty of ₹204 crore, and share of income tax liability discharged through Oasis Realty of ₹605 crore. The development comes ahead of the board meeting scheduled on February 8 to discuss the quarterly results.
According to information on MahaRERA portal, Three Sixty West project is registered in the name of Oasis Realty as the promoter, and has four promoters including Sky Lark Buildcon Pvt Ltd, and Shree Vrunda Enterprises, part of Sudhakar Shetty's Sahana Group, and Oberoi Consturctions Ltd and Astir Realty LLP which are Vikas Oberoi promoted companies. The project has two towers with Tower A with 66 floors and 28 apartments, while Tower B has 90 floors and 256 units including 4BHK, 5BHK, duplex configurations. It also has two penthouses of 11,036 sq ft each.
Industry sources said they expect more such transactions in ultra luxury properties to happen before the financial year closes on March 31 and the new tax regime announced by Finance Minister in the union budget kicks in. The finance minister had announced that the capital gain tax benefit on the sale of property above the value of ₹10 crore will be withdrawn. This was expected to dissuade families from buying multiple properties if they have to pay capital gains tax and impact sales of high value property sales. Being a niche market, the ultra luxury properties have a slower sales velocity.
"We can expect many more luxury home deals to be registered before March 31, 2023, before the new provision kicks in," Sandeep Reddy, co-founder of Zapkey.com told HT.
Ritesh Mehta, senior director and Head - West & North India, Residential Services, JLL said, "We may see a few more deals being executed by those sitting on the fence at this stage. Considering this being the last quarter of financial year and last few days for availing capital gains offset without cap, we may expect value deals getting registered before March 31."