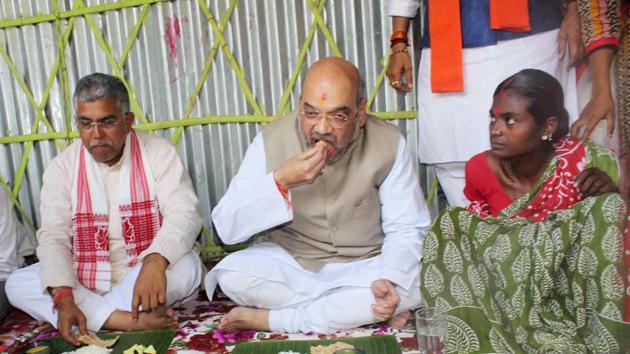 Bengal couple who hosted Amit Shah joins Trinamool, BJP says they were kidnapped
State BJP chief alleges tribal couple kidnapped and forced to join the Trinamool Congress
UPDATED ON MAY 10, 2017 07:21 AM IST
A tribal couple in Bengal's Naxalbari joined the Trinamool Congress on Wednesday, a little over a week after Bharatiya Janata Party Amit Shah had lunch at their house in a meeting seen as an ambitious attempt by the saffron party to increase its presence in the state
Raju and Gita Mahali received the Trinamool flag at the party's Naxalbari block office at 10am on Wednesday, prompting angry reactions from the BJP.
"They were kidnapped on Tuesday. Today they were made to join the ruling party," said state president Dilip Ghosh, who sat on Shah's right during lunch in the humble hut on April 25.
"They were missing since Tuesday. Their phones were also found to be switched off. Our party workers went to Naxalbari police station to lodge a complaint, but police did not accept the complaint," said Pravin Agarwal, BJP president of Darjeeling district.
The rivalry between the ruling Trinamool and the BJP has soared in recent months, manifesting itself in attacks and incendiary speeches. TMC chief and chief minister Mamata Banerjee has routinely attacked Prime Minister Narendra Modi and his party. She has alleged the arrests of her MPs in cases of alleged scams by central agencies are politically motivated.
"The couple belong to the scheduled tribe. They joined our party on their own and they will participate in our party's programme of carrying development to all sections of society in Bengal," said Gautam Deb.
The TMC leader also had tea in the same house where the BJP boss had his lunch eight days ago.
The BJP state president said that the body language of the couple in the TMC office, where they formally joined the party, "proved" that they were under pressure. "They were sitting with their heads down and looking at the ground," Ghosh alleged.
Raju, a daily labourer who assists building painters, and his wife, who works in a tea garden, became famous overnight when Shah and Ghosh went to their hut in Naxalbari, where they treated the leaders to a frugal lunch.
BJP has taken interest in Naxalbari, the cradle of ultra-Left extremism in the country.
Hatighisha, the village of Naxalite icon Kanu Sanyal, was adopted by BJP MP SS Ahluwalia as a model village after he was elected to the Lok Sabha in 2014.
While campaigning for the Lok Sabha polls, Narendra Modi had said in north Bengal that the BJP would change the face of Naxalbari and alleged the Mamata Banerjee government had done little for it.
After he landed in Siliguri on Tuesday morning, the BJP president went to the house of the Mahalis and had his meal instead of holding a meeting with party workers.
Close