Noida Expressway resurface work to resume due to hotter weather
Published on Jan 24, 2023 11:51 PM IST
The Noida authority plans to resume the work in February. Once the resurface work is complete, the authority will paint lane markings and put proper signs on the expressway, said officials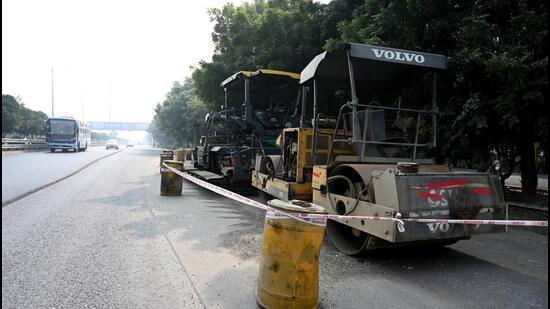 The Noida authority, which halted resurfacing work on a 5km stretch of the Noida-Greater Noida Expressway between Sector 126 and Mahamaya Flyover amid cold weather in December, is likely to resume the work due to rising temperature in the city.
"We halted resurfacing work in December because charcoal does not melt easily and cannot take proper shape with bitumen in low temperature. Now temperature is on the rise so we plan to restart work in the first week of February," said KV Singh, project engineer of Noida authority.
Since the resurfacing work is not finished, lane markings are also missing on the expressway. According to traffic police, more than 150,000 motorists use the expressway daily.
"We hope the work on the 5km stretch will be completed by the end of February. Once this is done, we will paint the lanes and put proper traffic signs," added Singh.
The resurfacing has missed multiple deadlines.
The authority started resurfacing in 2019 and planned to finish it by the of 2020. The deadline was then extended to July 2021, then again to April 2022. Due to the repeated delays, the authority imposed a penalty of ₹3.27 crore on the contractor. The deadline was again extended to December but the work was halted because of the weather, said officials.
The 25km six-lane expressway connects Delhi with the 165km Yamuna Expressway. The authority floated a tender to hire a private agency to resurface the road in October 2019 but the Covid-19 pandemic prevented further development.