Supreme Court orders demolition of Supertech's twin towers in Noida
Upholding an Allahabad high court order from 2014, the apex court observed that the construction of the two towers was 'illegal.'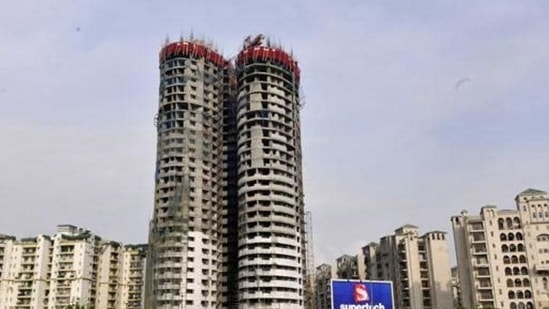 Published on Aug 31, 2021 12:49 PM IST
In a setback to real estate major Supertech, the Supreme Court on Tuesday upheld an Allahabad high court order from 2014, ordering demolition of twin towers in the group's Noida-based housing project Emerald Court. In its judgment, the top court observed that the construction of the two towers, comprising total 1000 flats, was carried out illegally.
Also Read | 'You are in cahoots with them': Supreme Court roasts Noida Authority over Supertech towers
A two-judge bench of the apex court, comprising Justice DY Chandrachud and Justice MR Shah which, during the previous hearing, pulled up the Noida Authority for its "shocking use of power" in sanctioning the structures, observed in its final judgment that their construction was due to a "collusion" between officials of the Authority and Supertech.
In the last hearing, on August 5, the bench reserved its order over the demolition of the towers, named Apex and Ceyane.
In its final order, the Supreme Court said that the demolition should be done within a period of two months, adding that Supertech will have to carry out the exercise at its own cost. Additionally, every flat owner will have to be paid a reimbursement at an interest rate of 12 per cent.
For Apex and Ceyane, the court ruled that the violation was indeed under the minimum distance requirement between the two.
On April 11, 2014, the Allahabad high court issued directions to raze Apex and Ceyane observing that these stood too close to each other. This, the high court noted, was against the minimum distance of 16 metres as required under the Noida Building Regulations, 2010. It also noted that Supertech did not take consent of the homebuyers as mandated by the Uttar Pradesh Apartment Owners Act, 2010.
The demolition order was challenged in the Supreme Court by Noida Authority and Supertech.
Close Story