Assam cabinet nod to 'massive police crackdown' on child marriages
Jan 23, 2023 04:55 PM IST
The decision was taken after the National Family Health Survey-5 (NFHS-5) carried out between 2019 and 2020 showed 31.8% of women aged between 20-24 years in the northeastern state were married before the legal age of 18 years, which is higher than the national figure of 23.3%
The Assam cabinet on Monday gave its nod to the state police to crackdown against child marriages across the state, officials said.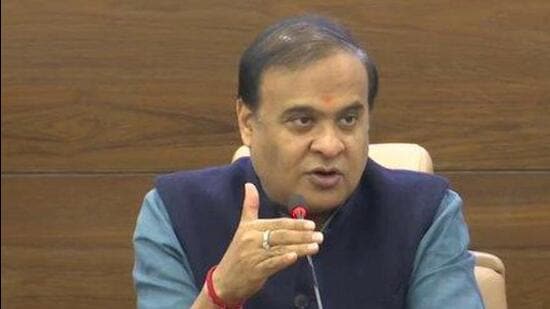 Chief minister Himanta Biswa Sarma informed that instructions were issued to the state police to carry out a massive crackdown against those indulged in child marriages, arrest them and initiate legal action.
The crackdown will begin immediately and will be carried out within 15 days, he said.
Assam has a high rate of maternal and infant mortality and the primary cause is child marriage.
Also Read: MSHRC takes note of child marriages in Marathwada, seeks responses from govt
"A big factor behind incidents of maternal and infant mortality rates in our state is child marriages. Hence our cabinet decided that legal action under the Protection of Children from Sexual Offences (POCSO) Act will be taken against anyone who marries a girl under 14 years of age," said Sarma.
He added that child marriages are illegal and even a husband can't have sexual relations with a girl below 14 years of age. "And for those who marry children between 14-18 years, action will be taken under provisions of POCSO," he added.
The decision was taken after the National Family Health Survey-5 (NFHS-5) carried out between 2019 and 2020 showed 31.8% of women aged between 20-24 years in the northeastern state were married before the legal age of 18 years, which is higher than the national figure of 23.3%.
"NFHS-5 showed that 11.7% of women aged between 15-19 years who were married were already mothers or pregnant during the period of survey (compared to the national figure of 6.8%). It shows that child marriages are happening at an alarming rate in Assam," said Sarma.
The figure was the highest for Dhubri district, where 22.4% of married women aged between 15-19 years were already mothers or pregnant and lowest for Charaideo district, where it was 3.8%.
Also Read: Two lawyers detained in Assam for alleged involvement in child marriage: Police
The NFHS-5 showed that 50.8% of all women in the Dhubri district between 20-24 years got married before they turned 18. South Salmara at 44.7% recorded the second-highest number of child marriages while in Dima Hasao it was 16.5%.
The cabinet also decided to appoint the secretary of each village panchayat as a child marriage prohibition officer under section 16 of the Prohibition of Child Marriage Act. If any child marriages take place in the village, the officer will have to lodge a police complaint.
Sarma said the crackdown would be neutral and secular, no particular community would be targeted.
"I have already instructed district officers about this. Action will also be taken against parents who encourage child marriages and priests who conduct them," said Sarma.
As per NFHS-4 carried out in 2015 and 2016, the percentage of child marriages in Assam was 30.8% against the national figure of 26.8%. The percentage of women IN Assam between 15-19 years, who were mothers or pregnant, was 13.6% against the national figure of 7.9%.
"Exciting news! Hindustan Times is now on WhatsApp Channels
Subscribe today by clicking the link and stay updated with the latest news!"
Click here!