Tricity Buzz: HT Chandigarh reporters' tracker on all those making, or faking, news
Mar 28, 2021 01:43 AM IST
Chandigarh SSP milks bucketful of publicity, Mohali civil surgeon injects hope for Covid vaccination, green warriors see red over fairy lights on trees, and more...
Chandigarh SSP milks bucketful of publicity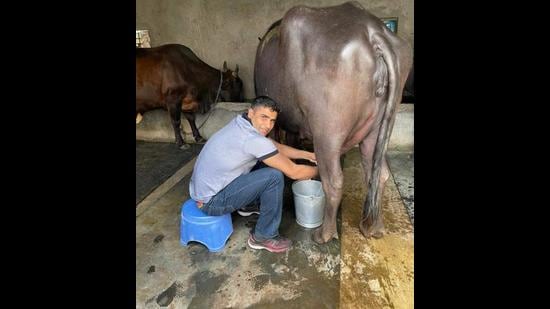 A picture and video of Chandigarh senior superintendent of police (SSP) Kuldeep Singh Chahal milking a buffalo is doing the rounds on social media and winning him praise. Chahal, who comes from a family of farmers from Ujhana village in Jind district of Haryana, shared the picture on Friday on Facebook in which he's seen milking a buffalo. He captioned it: "No matter where life takes you, never forget where you come from." Back home, Chahal would help his father, Sadhu Ram, who is a farmer, and his mother, a homemaker, with household chores. He takes pride in his rural roots. By Saturday, the picture got over 38,000 likes and more than 4,000 people commented on it, appreciating the officer. The picture has also been doing the rounds on WhatsApp groups and has become the talking point in police circles. Now, that's virtually milking a bucketful of publicity.
Strictly by the book, we're in Chandigarh
With the spike in Covid-19 infections in Chandigarh and a push from the Centre to tighten curbs, the UT administration is looking to increase testing. It's even roped in the private sector for expanding the testing capacity. But, that hasn't help scale up the testing significantly. "People are not coming forward to give samples then how can testing be increased?" says a senior UT official, requesting anonymity. But can't the administration follow the Mohali practice where people are being tested if they don't wear a mask in public. "That's illegal. Under which law are people being forced to give samples. We can't follow this in the Union Territory, where we go by the book. Testing has to be voluntarily. It can't be meted out as a punishment," the official says.
Mohali civil surgeon injects hope for Covid vaccination
The response to the ongoing vaccination drive against Covid-19 in Mohali district has been poor, prompting civil surgeon Dr Adarsh Pal Kaur to reach out to residents on social media and FM radio. Appealing to people to give up their hesitancy and get vaccinated, Dr Adarsh Pal Kaur reiterates on air that the vaccine is safe. "It will save your life from the virus," she says. Ever since the vaccination drive began, only 58% of health workers in the district have taken the vaccine. The response of senior citizens in the second phase has not been encouraging either. Now, all eyes are on the third phase beginning from April 1 when people above 45 years will be eligible to take the shot.
Green warriors see red over fairy lights on trees
Chandigarh is home to tree-lined avenues and many a resident is proud of City Beautiful's green heritage. But our green warriors were up in arms last week when trees in front of Panjab University's Night Food Street opposite PGI were seen wrapped in fairy lights. The Greening Chandigarh Action Plan bars such decoration as the fairy lights chained around tree barks can mess with the flowering cycle and affects birds, too. City-based environmentalist LR Budaniya said, "I got in touch with the municipal corporation authorities, who got the lights removed the next day. Some parts of the city, including Sector 22, have put up such decoration, which is harmful for trees. Awareness is needed." The MC authorities said no challans were issued.
Former syndicate members continue to grace PU website
Even though the term of the Panjab University syndicate ended on December 31, the official website of the varsity reflects the names of last year's members under the heading, Syndicate for the year 2020. No fresh syndicate elections were held in the absence of a senate, the apex governing body of the university. It's time the university website's updated.
Inputs by Hillary Victor, Munieshwer A Sagar, Shailee Dogra, Rajanbir Singh and Dar Ovais
"Exciting news! Hindustan Times is now on WhatsApp Channels
Subscribe today by clicking the link and stay updated with the latest news!"
Click here!