Construction and demolition waste management plant: Project to get further delayed as Ludhiana MC finds garbage beneath site
Published on Nov 28, 2022 11:21 PM IST
After missing a number of deadlines and facing heat from the National Green Tribunal (NGT) over the same, the Ludhiana MC had recently commenced civil work to establish the construction and demolition (C and D) waste management plant; With the change in design, the total cost of the project is expected to increase to around ₹5 crore and the deadline might also be extended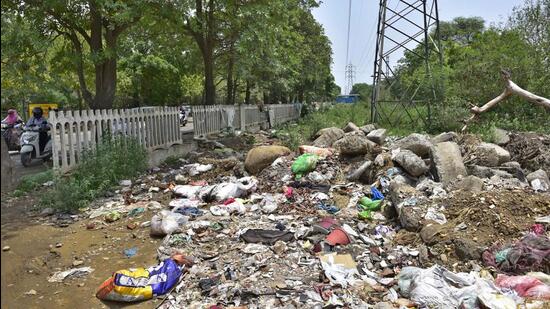 Hanging fire for over five years now, the project to establish construction and demolition (C and D) waste management plant in the city is likely to get delayed as garbage has been found beneath the project site in Dhandari area, soon after soil testing was commenced by the municipal corporation (MC).
After missing a number of deadlines and facing heat from the National Green Tribunal (NGT) over the same, the MC had recently commenced civil work to establish the plant . However, after finding garbage, the authorities will now have to change the design of the project, which will further lead to delay in its completion.
In absence of the plant, C and D waste can be seen dumped in open in different parts of the city, which also adds to air pollution due to dust emission.The delay in establishing the plant has also been affecting the ranking of the city under Swachh Survekshan (national cleanliness survey). After the completion of the project— being taken up under the Smart City Mission— the C and D waste will be converted into tiles and other useful material.
The estimated cost of the civil works for the C and D waste management plant was ₹2.69 crore, which includes ₹2.20 crore as the cost of machinery. Now, with the change in design, the total cost of the project is expected to increase to around ₹5 crore and the deadline might also be extended.
According to the information, the machinery was supposed to be installed by December 2021 and the deadline was later extended to December 31, 2022, but the platform required for the installation of the machinery is yet to be constructed. The deadline for establishing the platform was recently extended till March 2023.
MC executive engineer Balwinder Singh said, "As garbage has been found beneath the surface, the department has to change the design to establish the platform on which the machines have to be installed. This will increase the cost of the project and we will have to take approvals from the state for the same," adding that they were working on the same and efforts were being made to complete the project as soon as possible.