Ludhiana police tracing addicts to help them shun drugs
Updated on Nov 25, 2022 10:37 PM IST
Inspector Beant Juneja, in-charge at CIA staff 2, said with the help of Mohalla presidents, they had identified drug addicts from Tibba, Punjabi Bagh Colony, EWS Colony and Ghoda Colony in Ludhiana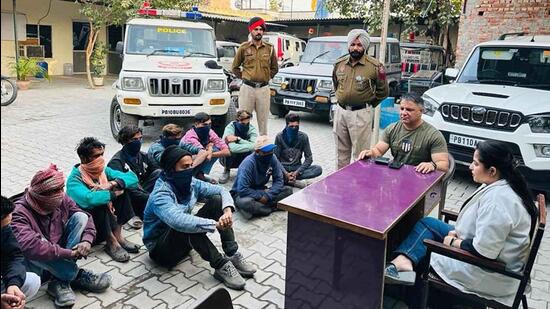 Tarsem Singh DeoganTarsem Singh Deogan
To lend a helping hand to addicts trapped in the world of illicit drugs, the police are 'on a hunt' to trace them, aiming to provide treatment to those willing to shun drugs. The CIA staff-2, with the help of doctors, have so far provided counselling and treatment to at least 20 drug addicts.
The addicts shared their stories of how they were introduced to drugs by their friends, also stating that when they tried to shun drugs on their own, they started facing health issues such as insomnia.
Inspector Beant Juneja, in-charge at CIA staff 2, said with the help of Mohalla presidents, they had identified drug addicts from Tibba, Punjabi Bagh Colony, EWS Colony and Ghoda Colony. "While most of the addicts fall in the age group of 19 to 30 years and belong to well-to-do families, one addict is 50-year-old," he said.
An addict admitted that he used to spend ₹500 to 700 per day on drugs, adding that when they did not consume drugs, they felt weakness in muscles and oftenly vomitted.
Neuropsychiatrist from Maa Saraswati Hospital Dr Shivani Bansal said they counselled addicts and convinced them for the treatment. She also appealed to parents to keep tabs on activities of their children, adding that if they are consuming drugs the police would counsel them and also help them in availing treatment.
'Lost job due to addiction'
One of the addicts, who is Btech graduate and was working in an information and technology company, said "I used to draw ₹45,000 salary per month. But after I was introduced to drugs by my friends, I became addicted due to which I was considered an underperforming employee. Moreover, I started remaining absent and finally I lost the job."
"I almost shunned drugs and returned to the mainstream. Meanwhile, I became a father. My friends asked me to throw a 'chitta' party. I arranged 5 gm heroin and consumed it with friends and became an addict again," he added.
Another addict, who is 20-year-old, said he was also introduced to 'chitta' by his friends. After his parents came to know about his addiction, he tried to give up drugs, he said, adding that when he did not consume drugs, he could not sleep for the whole night and also suffered stomach ache.