Taste of Life: When (and why) the misal was Pune's steak... served very rare
The myth that certain foods and dishes were "masculine", and one needed to devour those for strength was traceable to the intersection of colonialism, white supremacy, domesticity, and masculinity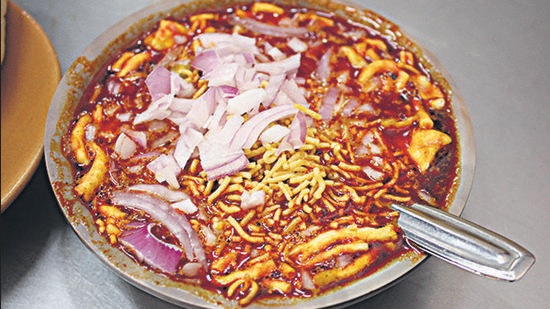 Published on Aug 19, 2021 04:20 PM IST
VN Natu, the chronicler of Pune and the author of the delightful book "Aadhich Pune Gulzar", was 14 when one of his uncles took him to a restaurant serving misal. The year was 1942 and the month, March. The Second World War had extended to the China– Burma– India theatre. The Air Raid Precautions law had been implemented and several citizens, like one Mr Thakur who sold bhel in Sadashiv Peth, were arrested for not obeying the orders. Pune had been experiencing frequent "brown-outs", and mock drills to train the population in an event of a bombing were a routine. There was a talk of an impending "black-out".
Natu and his uncle went to a restaurant in Shukrawar peth. They did not enter through the main door facing the road. Most of the restaurants those days had back doors to facilitate patrons who did not wish to be seen entering the premises. Once seated, the uncle ordered misal for both of them.
This was Natu's first visit to a restaurant. His uncle too had never been inside one. They had never tasted misal. The purpose of this visit was not limited to eating misal. They were not there to enjoy the taste and appreciate the texture of the dish. They were there because the uncle believed that eating misal would equip them in fighting the British. They wanted to eat misal because they wanted to be strong and "masculine".
The notion that some dishes were "masculine", while others were "feminine" was brought to India in the late 19th century. While several ancient Indian manuals and treatises on medicine prescribed foods for vigour and strength, they never classified them as "masculine" and "feminine". The myth that certain foods and dishes were "masculine", and one needed to devour those for strength was traceable to the intersection of colonialism, white supremacy, domesticity, and masculinity.
The idea that some foods were more appropriate for women started to emerge in 19th-century Europe and the US after more and more women started joining the workforce. The corporate advertising machinery demarcated male and female taste preferences. Over a period of time, a notion that certain foods were more preferred among women started to emerge.
Man is the hunter, the breadwinner, the meat – and - misal – eater. A woman is the gatherer of vegetables, the cupcake–maker, and salad-eater. This classification is based on how society constructs its understanding of gender. The separation in cooking familiarity and skill is more to do with society's control over gender than the genetic makeup or sex of people - partly to do with the gendered division of labour, partly to do with the construction of the gendered body. The food choices and acquired tastes are part of the learning which is gendered. Gender is not "natural". And Pune definitely was not a place for fluid gender roles and feminised masculinities in the 19th and 20th centuries.
Misal, tea, kanda-bhaji (onion fritters) were masculine; sabudana khichadi, ghavane (thin pancakes made of rice flour) were feminine. Meat has closely been associated with masculinity, virility, power, and privilege. Energy-dense, spicy, oily, and strongly flavoured foods were perceived as masculine foods, while soft and sweet foods were perceived as feminine.
Several columns in "Bombay Chronicle" and "Bombay Gazette" between 1910 and 1940 labelled fish, pasta, salads, cakes, and ice-cream as "female foods". These foods were sweet or bland. A lady was not supposed to devour a steak. Various restaurants serving Europeans in India designed menus keeping this in mind. The dishes meant for women were described as "decorated", "colourful" and "joyful".
Those who ate "masculine foods" were perceived as more masculine than those who ate "feminine foods".
The portions mattered too. Eating like a bird was feminine. Eating large portions was manly. Larger portions and spicy/oily food were perceived as more masculine, while smaller portions were considered more feminine.
Boys were, and are, encouraged to eat big portions from a very young age. Men eat more in the presence of other men. This was based on the motivation for competition. Pune was known for its feasts where men competed to eat jalebis and laddoos. The newspaper "Jnanaprakash", between 1850 and 1880, reported several stories where men ate hundreds of jalebis or passed out due to the exhaustion caused by over-eating. These men were treated with respect.
Another means of reinforcing masculinity was by restricting women's dining in public to certain occasions and to the company of men of their families. A restaurant was a public space where only a man ate and hence, this act of consumption was "masculine". Because misal or meat could only be eaten in restaurants, their status as a forbidden pleasure appealed to men.
Culture affects gender roles and hence, food choices. Caste matters too. When fractures in the social fabric became too apparent in 20th century Pune, men belonging to castes which traditionally avoided meat or did not eat out due to reasons related to caste and religion were mocked in public. They were perceived as "weak", "traitors" and songs were composed to ridicule their dietary choices. Men who gave up tea and meat (mostly followers of Gandhi) were described as "less masculine", "physically weaker".
Natu and his uncle ate misal several times after their first visit that day. Their families never knew. Both of them participated in the Quit India Movement. Natu threw stones at the police near SP College on August 10, 1942. His uncle participated in a few demonstrations against the British and went underground to avoid arrest. He helped a few freedom fighters in acquiring equipment to run a radio station.
Did you eat meat, I had asked Natu seven years ago when I met him for the first time. He smiled and started talking about the various misals he enjoyed over the years.
Close Story