'Betrayal of Bihar's people': BJP reacts after Nitish Kumar breaks alliance
Updated on Aug 09, 2022 05:10 PM IST
Bihar BJP chief Sanjay Jaiswal said, "We fought the 2020 polls together under the NDA, the mandate was for JD(U) and the BJP, we won more seats despite that Nitish Kumar was made the CM."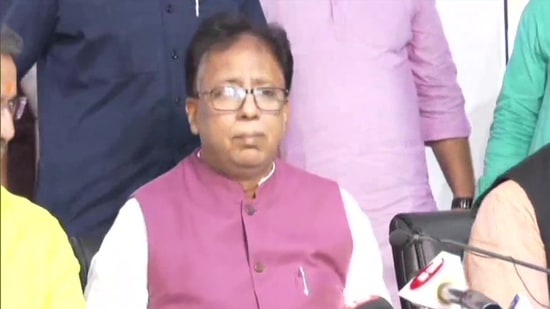 The Bharatiya Janata Party (BJP), in its first official reaction after Nitish Kumar met governor Phagu Chauhan and tendered his resignation as chief minister of the NDA government in Bihar on Tuesday, said whatever happened was a betrayal of Bihar's people and the saffron party.
"We fought the 2020 polls together under the NDA, the mandate was for JD(U) and the BJP, we won more seats despite that Nitish Kumar was made the CM. Whatever happened today is a betrayal of Bihar's people and the BJP," Bihar BJP chief Sanjay Jaiswal said at a press conference.
Kumar, earlier in the day, held a meeting with the JD(U) leaders to discuss his next future political moves. He then sought time from Chauhan.
Around 4 pm, Kumar arrived at Raj Bhawan and met Chauhan and apprised him of his decision to quit as the state chief minister.
All MLAs and MPs of the party supported chief minister Kumar's decision and said that they were with him. They also asserted that they will continue to support Kumar in his decision.
"All MPs and MLAs are at a consensus that we should leave the NDA," said Kumar after submitting the resignation letter.
Without naming Chirag Paswan, the legislators are reported to have recalled the actions of former Lok Janshakti Party (LJP) chief during the 2020 state assembly polls while warning the CM that if they were not alert, it would not be good for the party.
Paswan had fielded rebel BJP candidates in all seats fought by the JD(U) in the 2020 polls, in what some have alleged was part of a plot of the BJP to wedge its way into the ruling coalition in the state.
The RJD-led Opposition in the state has said that it will welcome any re-alignment in Bihar's ruling coalition without the BJP.
(With inputs from ANI. PTI)
Topics
Personalise your news feed. Follow trending topics