Congress to hold cycle yatra in Patna today to protest against fuel price hike
On Saturday, petrol prices witnessed the 41st hike in 75 days when they rose by 30 paise per litre, although diesel prices remained unchanged.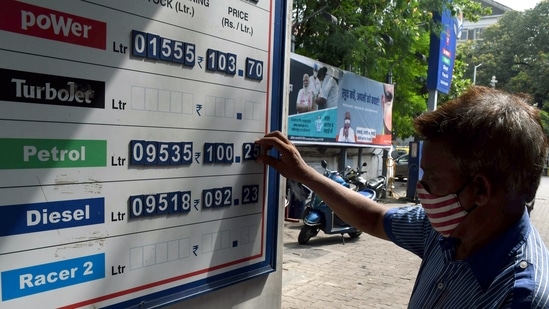 Updated on Jul 17, 2021 11:36 AM IST
Written by Sharangee Dutta | Edited by Meenakshi Ray
, Hindustan Times, New Delhi
Congress will organise a cycle yatra or bicycle rally in Bihar's capital of Patna on Saturday to protest against the rising petrol and diesel prices, according to party national spokesperson Mohan Prakash. "As part of our ongoing nationwide agitational programme against soaring fuel prices and increasing inflation, Congress workers will take out a cycle rally in Patna on July 17," Prakash was quoted as saying by news agency PTI on Thursday.
Prakash said that the BJP-led central government has failed to curtail inflation rates and surges in essential commodities, and no effective methods have been adopted in order to check the hike in prices. Prakash added that Prime Minister Narendra Modi-led government has avoided its "responsibilities towards the people during the pandemic," PTI reported.
Speaking to the media in Patna, Prakash highlighted that at the time when India is going through a "deep economic recession," the inflation has gone into double digits. "Why have crores of people lost their livelihoods and jobs over the last one year? The Modi government is guilty of distressing the poor, middle class and the marginalized," he said, adding that the PM Modi-led government has been working for the corporates ever since coming to power in 2014.
Besides Congress, the Rashtriya Janata Dal (RJD) – the opposition party in Bihar, will stage a protest against the rising fuel prices at all blocks and district headquarters on July 18 and 19, respectively, party officials said.
"We will write to all parties of the Mahagathbandhan (grand alliance) to join the protest," the leader of Opposition Tejashwi Prasad Yadav said.
Notably, petrol prices witnessed the 41st hike in 75 days on Saturday when they rose by 30 paise per litre. After the latest hike, petrol in Delhi is priced at ₹101.84 per litre, and diesel at ₹89.87 per litre. All five metros in India – Delhi, Mumbai, Kolkata, Bangalore and Chennai, have already seen petrol prices crossing the ₹100-mark for a litre of petrol. Diesel prices, however, remained unchanged after seeing a 16 paise per litre reduction on July 12.
Close Story