Upset Kushwaha calls JD(U) workers' meet
Feb 06, 2023 08:18 AM IST
Janata Dal (United) leader Rajiv Ranjan rubbished Upendra Kushwaha's claims as a figment of his imagination
Bihar's ruling Janata Dal (United) or JD(U) leader Upendra Kushwaha has again hit out at the party leadership and demanded immediate talks on a "special deal" with the Rashtriya Janata Dal (RJD) amid "talk of a merger".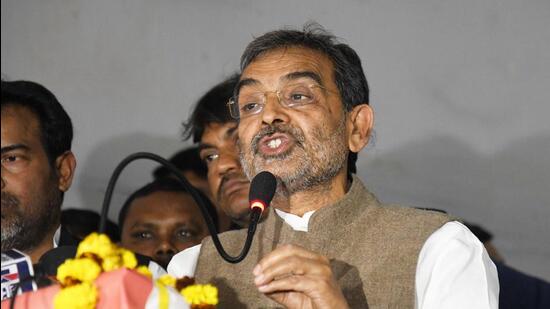 In a letter to JD(U) workers on Sunday, Kushwaha invited them for a discussion over these issues on February 19-20 in Patna.
JD(U) president Rajiv Ranjan rubbished Kushwaha's claims as a figment of his imagination.
Kushwaha wrote JD(U) is getting weaker due to internal reasons and said he has been warning chief minister Nitish Kumar over it. "I have also presented my viewpoint at the party meetings...I have tried my best to save the party, which is losing its credibility and facing crisis...."
He said Kumar has turned a blind eye to this. "My viewpoints are also being misinterpreted." Kushwaha maintained the JD(U) is not a party of any individual but a result of the sacrifices and contributions of millions of people.
He wrote he is worried for those who saw in JD(U) their future. "There is also growing confusion due to talks of JD(U) merger with the RJD and the special deal and it is leading to a political vacuum."
Ranjan hit back saying attempts were being made to create confusion and mislead party workers. "There is neither any deal nor any talk of a merger. A fictitious story is being floated to mislead workers."
Kushwaha has been critical of JD (U)'s leadership even as Kumar has ignored it saying he should not be asked questions related to this.