Drainage water seeping into resident's bungalow in Pune
Published on Mar 16, 2022 12:45 AM IST
The Damles – who gave Pune city Prabhat Cinema – have been living in misery because of seeping drainage water ever since the 24x7 water project began on Law college road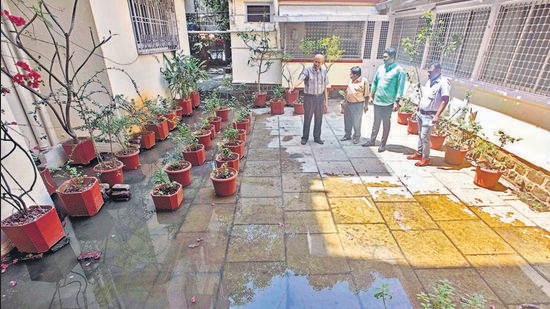 PUNE The Damles – who gave the city Prabhat Cinema – have been living in misery ever since the pipeline laying work of the 24x7 water project began on Law college road. The reason is that their home has been surrounded by seeping drainage water ever since the work began, and the family's pleas and requests to the local municipal authorities have fallen on deaf ears. So much so that the bungalow's courtyard and parking space are now a puddle of dirty stagnant water and have become a breeding ground for mosquitoes.
Anil Damle said, "This seepage began in November, around Diwali, and it was followed by a foul smell that spread over the entire house. We called the ward office and also raised complaints over the issue but it has not been dealt with and we are suffering because of this."
Interestingly, the Pune Municipal Corporation (PMC) did repair the seepage some months ago but soon, the kitchen and other low-lying areas of the house were flooded with drainage water and filth. After reading Damle's posts and pleas for help on social media, the members of the Deccan Gymkhana Parisar Samiti helped re-tweet the same till they caught the attention of the local corporator and ward office.
Local corporator Deepak Pote said, "I visited Damle's house and the place is stinking due to stagnant water. The PMC junior engineer has also seen the place with me and will work on solving this problem at the earliest."
PMC junior engineer, drainage department, Warje, Vidnyan Gaikwad, said, "The reason for all the drainage water seeping into this home is that during the laying of the 24x7 pipelines, the manholes along the road from Satyasheela apartment till the FTII have been buried under layers of tarring, hence it was difficult to pinpoint where exactly the choke up might be. But we have now identified a location and have begun work to create a manhole to help clear the choke up and it will take us around three to four days."
Personalise your news feed. Follow trending topics