Now, scan QR code to know about trees at Empress Garden
Published on Jan 24, 2023 11:36 PM IST
People will receive detailed information about the tree species after scanning the code with their mobile devices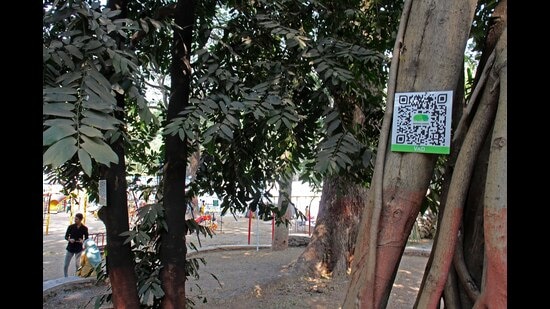 In one of a kind move, the authorities at the Empress Botanical Garden have pasted a QR code on each tree to make it easier to learn about the ancient trees. People will receive detailed information about the tree species after scanning the code with their mobile devices.
"Anyone who scans the QR code from a mobile will get information about respective trees," said Suresh Pingale, secretary of the Agri-Horticultural Society of Western India, which manages the garden. It will also provide names for trees in Marathi, English, and botanical names."
According to authorities, the project is one-of-a-kind and will provide easy access to information. For the first time in the city, QR codes are being pasted on trees.
"The Empress Garden is known as a botanical garden with a focus. It has 180 different types of tree species and 3,000 trees in total. We attached a QR code to each tree. "There are about 25-30 trees left, and it will be finished soon," Pingale added.
Dr Shrinath Kawade, an environmentalist, and Dr Pravin Patil, a professor at GSS College in Belgaum, invented the QR code system.
"Since our flower show begins on Wednesday and our staff is busy preparing for it, the work of placing QR codes will be completed soon," added Pingale.
After a two-year hiatus, the annual Empress Garden show returns on January 25-29. The exhibition will be open from 1 pm to 8 pm on Wednesday, and from 9 am to 8 pm on January 26-29.
Three to four lakh flowering plants spread across 10 acres will be visible to visitors.
Prashant Raul, an environmentalist and the founder of Vruksh Mitra, an organisation dedicated to tree conservation, stated that providing information via QR code is a fantastic initiative.
"However, the information should be made available in a generalised manner as many visitors to the garden may not wait to scan the QR code to get the information or may encounter problems while scanning the code," Raul suggested.