Pune ring road: 2K farmers to get avg compensation of
₹

3.70 crore per hectare

Jan 23, 2023 11:03 PM IST
Farmers from Mulshi and Maval talukas have taken the lead in terms of land acquisition for the ambitious West Ring Road project, with the district administration organising a special camp next week onwards wherein 2,000 farmers from 21 villages will sign a letter of consent and will be given remuneration via cheque either on the same day or in the next few days depending on completion of legal documentation
Farmers from Mulshi and Maval talukas have taken the lead in terms of land acquisition for the ambitious West Ring Road project, with the district administration organising a special camp next week onwards wherein 2,000 farmers from 21 villages will sign a letter of consent and will be given remuneration via cheque either on the same day or in the next few days depending on completion of legal documentation. The district administration has taken the farmers into confidence, and completed the evaluation of each of their properties beforehand. The administration has taken into consideration the total area of the land parcel, trees, houses and other assets so that farmers can be given complete remuneration for their properties.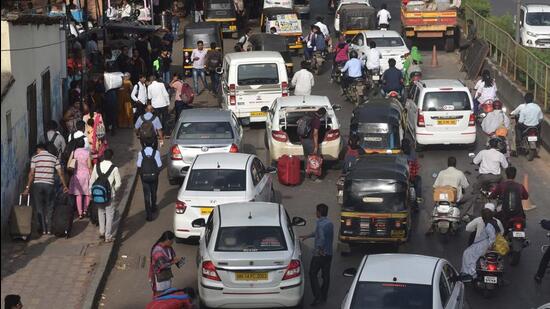 District collector Rajesh Deshmukh said that land rates have been finalised at an average of ₹3.70 crore per hectare and the process of payment and possession of land will start next week. "There is variation in compensation rates but an average of ₹3.70 crore per hectare will be paid. A total allocation of ₹2,384.92 crore which has come from the state government will be distributed wherein 618.8 hectares will be acquired in the first phase," Deshmukh said.
Sub-divisional officer Sandesh Shirke told Hindustan Times, "We will be holding the camp for 21 villages and 2,000 farmers will be attending the event. After taking their letter of consent, we will be completing the legal documentation process and awarding cheques as compensation. The programme will start coming Monday."
The Maharashtra State Road Development Corporation (MSRDC) has proposed a 172 kilometres' long and 110 metres' wide ring road to decongest Pune city, including Pimpri-Chinchwad. Private land located in 32 villages will be acquired. Of the 32 villages, six namely Parandwadi, Dhamane, Urse, Pachane, Bebadohol and Chandkhed are in Maval taluka; 14 namely Kasaramboli, Ambadvet, Katwadi, Ghotwade, Moterewadi, Javal, Rihe, Pimpoli, Kemesewadi, Urawade, Padalgharwadi, Ambegaon, Marnewadi and Muthe are in Mulshi taluka; 10 namely Bahuli, Bhagatwadi, Mordarwadi, Mandvi Budruk, Sangrun, Khamgaon Maval, Kalyan, Vardade, Rahatwade and Thoptewadi are in Haveli taluka; and two namely Ranje and Kusgaon are in Bhor taluka.
Despite Covid-19 restrictions, sub-divisional officers, tehsildars, taluka deputy-superintendents of land records and counting inspectors jointly carried out detailed land measurement for the project in the presence of local talathis and villagers. The District Town Planning authority had made a preliminary assessment of land acquisition for the project and submitted its recommendations to the state government for smooth execution of the project. State excise minister, Shambhuraj Desai, had in December 2021 promised that work on the ring road in Pune district would begin in February 2023 and that the ring road would be ready by 2026.