Two days after massive pile-up, two more mishaps reported at Navale Bridge
Published on Nov 23, 2022 12:25 AM IST
The accidents exhibit an urgent need for city police and administration to initiate steps to curb mishaps at the stretch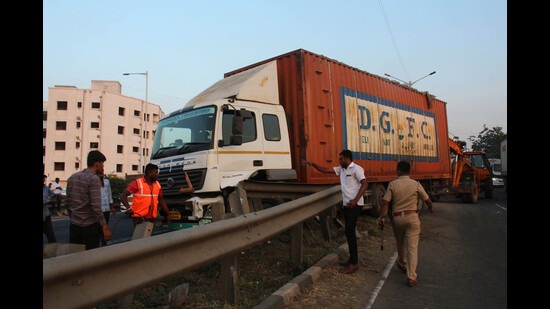 Just two days after a tanker collided with several vehicles at Navale Bridge, two more mishaps including heavy vehicles occurred at the chronic spot, on Tuesday. The accidents exhibit an urgent need for city police and administration to initiate steps to curb mishaps at the stretch.
In the first incident, according to Sinhagad police, at around 5:45 pm a speeding truck heading towards Chandani Chowk hit a car and collided with a divider. Reports say that the overspeeding truck lost control at the selfie point near Navale bridge.
After the accident, traffic movement in the area was affected, causing major congestion. Shortly after the incident, traffic police cordoned off the route and diverted traffic from the service road.
Shailesh Sankhe, senior police inspector at Sinhagad road police station said, the truck with Nagaland passing was heading towards Chandni chowk and hit the car at a high speed.
"Truck driver later informed us that he lost control due to a steep slope on the road. Fortunately, no injuries have been reported due to the collision,'' Sankhe confirmed.
he further added that after the dash, the truck was stuck on a divider lane and was later removed using a crane. Cops have detained the truck driver and are investigating the case further.
Near the same spot, at least 48 vehicles were damaged and more than 20 people were injured in a multi-vehicle accident on Sunday.
Immediately after the mishap, the police commissioner, traffic DCP, National Highways Authority of India (NHAI) officials, and officials from the district administration conducted meetings to discuss t- and long-term measures to curb accidents at this particular stretch.
Another accident was reported near the Swami Narayan Temple, wherein a container barged into two cars and a bus at around 5.30 pm. According to the complaint filed by Prajwal Nair, a resident of Sinhagad road, he was on his way back home, when the container rammed his car and two other vehicles from behind.
Police informed that truck driver Narul Muhammad Khan was detained and according to him, he lost control of the wheels as the truck was stuck in neutral gear.
A case has been registered at Sinhagad Road police station under sections 279, and 427 of the IPC and sections 184,119/177 of the motor vehicles act.
Personalise your news feed. Follow trending topics