Will respond to SC notice challenging Lavasa land purchase, says Supriya Sule
Published on Aug 09, 2022 04:47 PM IST
MP Supriya Sule, who previously held share in Lavasa project, said, she will respond if any notice has been issued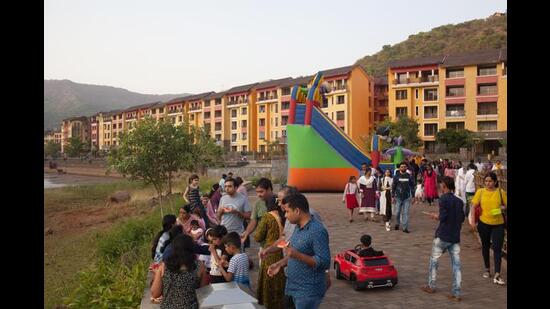 The Supreme Court on Monday issued notice on the special leave petition (SLP) filed against Lavasa Corporation by Nanasaheb Vasantrao Jadhav and others challenging the Bombay High Court decision which had quashed the petitions challenging permissions granted to Lavasa Corporation to buy land for the project.
Supreme Court judges Justice D Y Chandrachud and AS Bopanna in their order stated, " Issue notice on the special leave petition as also on the prayer for interim relief returnable in six weeks. Counter affidavit shall be filed within a period of four weeks from the date of service of notice."
NCP Member of Parliament in Lok Sabha Supriya Sule, who previously held share in Lavasa project, said, she will respond if any notice has been issued. "I haven't seen the order nor have received any notice yet. But we have always respected judiciary and will respond to it accordingly," she said.
The Bombay High Court in its judgment dated February 26 had stated that the 'judicial hands-off' approach is best suited in the present case due to 'gross delay' in filing of PIL.The petition filed before the court stated that poor and illiterate farmers living in remote hill areas in 18 villages of Mulshi taluka are unaware about various departments of the state government granting illegal permissions to purchase land and develop Lavasa City. Advertisement was published by Lavasa in a prominent newspaper on September 2, 2010 for the public at large which proved to be misleading and mischievous. Common people who are investing their money in Lavasa are also under the impression that this project is legal and supported by the state.
The petitioner also brought to the notice of the high court how the state government acted with supersonic speed while granting illegal permissions to Lavasa. There is a nexus between Lavasa Corporation Ltd and officers of the state government. This is the example of nepotism, undue political favouritism, misuse of power and breach of trust by government officials and ministers, the petition stated.
The petition further alleged that Nationalist Congress Party (NCP) chief Sharad Pawar, MP Supriya Sule and Ajit Pawar, state government officials' decisions against public interest. The state government gave environment clearance to the project without referring the project to the government of India. The developer exceeded their limits and non compliance of Environment Protection Act 1986.
The petitioner submitted that the impugned order had affected the farmers who had been further subjected to grave continuous injustice against them at the hands of the respondents 11, 12 and 13 and the entire machinery has acted in a complicit manner to ensure that in complete contravention of existing provisions, the Lavasa lake city is developed. The systematic application of state machinery in an arbitrary manner does not just impinge on article 14 but also violates Article 19(10) g and article 21 rights of landholders.
Personalise your news feed. Follow trending topics