UP temple to honour Muslim devotee on Mahashivratri
Updated on Mar 07, 2016 05:01 PM IST
Noorul Hasan, a 75-year-old businessman who is said to have played 'Nandi' at the centuries-old Shivalaya temple on many occasions, will be felicitated by Lucknow mayor Dinesh Sharma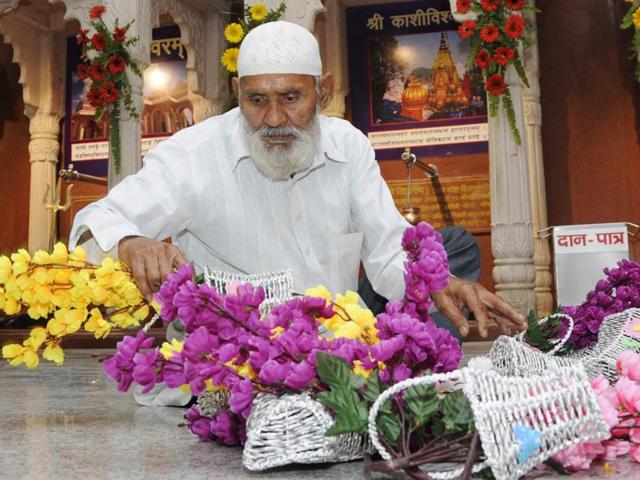 Even as the intolerance debate continues to rage on, the management of a 200-year-old Shiva temple in Uttar Pradesh has decided to felicitate a Muslim for services rendered to the establishment.
Noorul Hasan, a 75-year-old businessman, will be honoured by trustees of the Shivalaya temple in Lucknow's Sadar area on the occasion of Mahashivratri — which falls on Monday. "We will first perform a 'maha-abhishek'. Following that, Lucknow mayor Dinesh Sharma will felicitate Hasan, who has often played the role of 'Nandi' (an ardent follower of Lord Shiva) for the temple," said Awnish Kumar Agarwal, an office-bearer of the temple trust.
Hasan, whose house shares its boundary wall with the temple, has been closely associated with the religious establishment for years. He also contributed significantly towards its restoration, Agarwal said.
Read: Multi-city terror alert: Shivratri being observed amid tight security
"Hasan has been doing all he can for the temple — providing space for the preparation of the 'bhog' (temple food), ensuring water supply from his house for the 'abhishek', monitoring its day-to-day activities and playing an important role in the trust's decisions," the office-bearer added.
Despite the praises heaped upon him, Hasan remained a picture of humility. "I have been associated with this temple for a long time now. It was in a bad shape. So, when the temple trust decided to restore it, we decided to do our best to facilitate it," he said.
Agarwal, however, said that the temple restoration would not have been possible without Hasan's help. "Chacha, as we affectionately call him (Hasan), closely monitored the construction of the temple and ensured that construction material wasn't wasted or stolen. He provided water from his house to ensure that the construction work was carried out smoothly."
Read: India is the most secular country, says Rajnath Singh
The businessman believes that religious intolerance would be a thing of the past if people learnt to respect diverse ideologies. "My family believes that every religion should be respected," he said. "People should not be restricted from doing their bit for other religions. We do as much as we can for the temple."
Hasan said he and his family partake of the 'prasad', and attend all the events hosted by the temple. "Taking his contribution to the temple into account, we decided to felicitate him on the occasion of Mahashivratri," said Rajesh Chandra Agarwal, another office-bearer of the temple trust.
The temple, which has replicas of all the 12 Jyotirlingas (divine objects representing Lord Shiva), is frequented by many devotees. "The temple was lying in a dilapidated state. So we renovated the structure, and brought idols from Jaipur to give it a whole new look," a trustee said.
Personalise your news feed. Follow trending topics